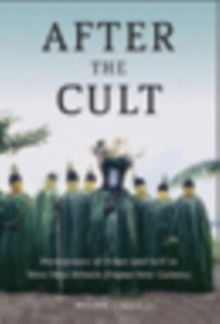 After the Cult : Perceptions of Other and Self in West New Britain (Papua New Guinea)
Hardback
Description
"The book will be of value to those who study the religions of Oceania and those who are concerned with missions and local Christianities." * Anthropos "What Jebens has provided us on the whole, is a densely-knit and fascinating study, which will be of interest to all scholars of religion and social change in the Oceanic and Asiatic regions.
His anthropological perspective illuminates areas of the everyday practice of faith and the working out of religious conflict that would not be accessible to us otherwise." * Asian Journal of Social Science "Here, finally, is a book that realizes on a grand scale the long-held promise that the study of cargo cults can teach us as much about anthropology as about the Melanesians who participate in them...this is the book to bring the study of cargo cults into the twentieth-first century.
It should join those classics in being widely read and broadly influential." * Joel Robbins, University of California, San Diego In many parts of the world the "white man" is perceived to be an instigator of globalization and an embodiment of modernity. However, so far anthropologists have paid little attention to the actual heterogeneity and complexity of "whiteness" in specific ethnographic contexts.
This study examines cultural perceptions of other and self as expressed in cargo cults and masked dances in Papua New Guinea.
Indigenous terms, images, and concepts are being contrasted with their western counterparts, the latter partly deriving from the publications and field notes of Charles Valentine.
After having done his first fieldwork more than fifty years ago, this "anthropological ancestor" has now become part of the local tradition and has thus turned into a kind of mythical figure.
Based on anthropological fieldwork as well as on archival studies, this book addresses the relation between western and indigenous perceptions of self and other, between "tradition" and "modernity," and between anthropological "ancestors" and "descendants." In this way the work contributes to the study of "whiteness," "cargo cults" and masked dances in Papua New Guinea.
Holger Jebens is a Research Fellow at the Frobenius Institute and has been Managing Editor of Paideuma since 1998. He was Theodor-Heuss Lecturer at the New School of Social Research and spent many years doing fieldwork in highland and seaboard Papua New Guinea.
His publications include Cargo, Cult, and Culture Critique (Hawai'i University Press, 2004), and Pathways to Heaven (Berghahn Books, 2005).
Information
Format: Hardback
Pages: 256 pages, 1, black & white illustrations
Publisher: Berghahn Books
Publication Date: 05/05/2010
ISBN: 9781845456740
Free Home Delivery
on all orders
Pick up orders
from local bookshops
Also by Holger Jebens