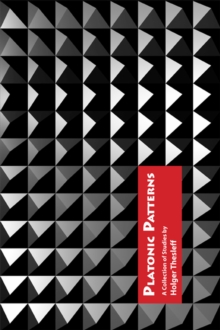 Platonic Patterns : A Collection of Studies by Holger Thesleff
Paperback / softback
Description
Platonic Patterns is a reprint collection of many of Holger Thesleff's studies in Plato spanning from 1967 to 2003.
It includes three books, four articles and a new introduction by the author, which sets the general outline of his interpretation of Plato.
Whereas much of the scholarship on Plato has tended to operate within the frame of one language and/or a single school of thought, Thesleff constructively combines several discoveries and theories (philosophical, philological and historical) of various scholars with his own research, focusing on how Plato can be understood in his own context. The work represents small but significant breakthroughs in research on Plato from an internationally inclusive standpoint.
Having previously been published mainly in Finland by scholarly societies, availability outside the Nordic countries has, up until now, been minimal. Thesleff employs his singular expertise of Greek language and literature to make innovative contributions to the study and interpretation of Plato.
He thematically stresses the significance of the less overt elements found in Plato's dialogues, such as Plato's use of humor and his linguistic expression, while taking into account the chronology and/or the intended audience.