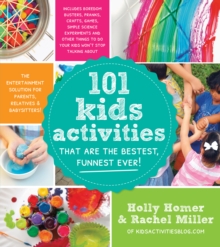 101 Kids Activities That are the Bestest, Funnest Ever!
Paperback / softback
Description
Whether your kid is 3, 5 or 12-years old it's hard to keep them entertained all day, or even for a few hours.
But now, when they ask to watch television because they're bored, you'll have the perfect solution with this book. 101 Kids Activities That Are the Bestest, Funnest Ever! has time-tested, exciting activities to keep your children laughing and learning for hours.
Holly Homer and Rachel Miller are the women behind the wildly popular site KidsActivitiesBlog.com, which has over 12,000 subscribers, 102,000 Pinterest followers, 49,000 Facebook likes and 20,000 Twitter followers.
Activities range from catapult competitions and spray bottle freeze tag to how to make tissue box monster shoes and melted crayon fabric art. And with outdoor and indoor activities and tips for adjusting according to your child's age, you'll have hours and hours of never-ending fun with your family.
This parenting life raft is the perfect way to spend enjoyable quality-time with your kids, no matter their age.
Information
Format: Paperback / softback
Pages: 176 pages
Publisher: Page Street Publishing Co.
Publication Date: 14/07/2014
Category: Indoor games
ISBN: 9781624140570
Also by Holly Homer