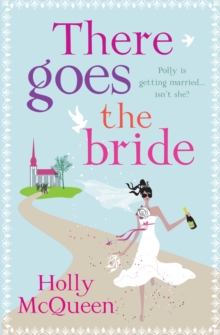 There Goes the Bride
Paperback
Description
Polly Atkins is getting married. And her older sister Bella couldn't be more excited.
Not only will Polly be home after five years in New York, but she's coming back to marry the most perfect man on the planet, Dev. Dresses, cake, first dance ... Bella's looking forward to getting stuck into the arrangements.
Polly's best friend Grace is just as excited. She's can't wait to walk down the aisle behind her childhood ally, especially as the stylish Polly wouldn't dream of dressing her bridesmaids in anything but the best, which will make a welcome change to the 'mum-wear' she's adopted since her second child was born.
The only person who doesn't seem to be bursting with enthusiasm is Polly.
Which is why, before things can get any more chaotic, she calls the whole thing off. And there's no way she's going to tell them why. Some secrets are best kept hidden. But she's reckoned without Grace and Bella, who are determined to get Polly and Dev back together if it's the last thing they do.
After all, solving someone else's problems has got to be better than dealing with their own ...?
Information
Format: Paperback
Pages: 496 pages
Publisher: Cornerstone
Publication Date: 01/05/2011
ISBN: 9780099545767
Free Home Delivery
on all orders
Pick up orders
from local bookshops
Reviews
Showing 1 - 2 of 2 reviews.
Review by RavenswoodPublishing
16/06/2015
Book Title: "There Goes the Bride"Author: Holly McQueenPublished By: AtriaAge Recommended: 18+Reviewed By: Kitty BullardRaven Rating: 5Review: So much happens when Polly Atkins decides to ditch her wonderful fiance' at the last minute! Her friends vow to reunite the couple, secrets unfold and excitement ensues in this very fulfilling romantic excursion. This book has laughs, tears, fun, chaos and so much more! I definitely recommend this read to all the ladies!
Review by donnambr
16/06/2015
Polly's flying home and she's getting married! Except, she's not. The wedding's off and nobody can figure out why. After all, Polly seemed head over heels with her fiance Dev and the wedding is just around the corner. Polly's friend Grace and her sister Bella both have enough problems of their own but with Christmas and a wedding just around the corner, they need to figure out how to get Polly down the aisle.I really enjoyed There Goes the Bride. Although the main aspect of the story is Polly's refusal to wed Dev – and refusal to confirm why – Bella and Grace also have their own share of pretty heavy going problems. Bella has a successful catering business but she's looking to adopt and having a waster of a boyfriend lolling around the house, bringing his mates home and missing every social worker's visit is proving to be a bit much to handle. Grace has lovely children but a less than lovely husband. Despite being a talented artist, she's become little more to her husband than a fetcher, carrier and babysitting service.The book is fun and funny with a smattering of arguments, romance, sex, snobbery and Christmas mayhem. At times it's a little predictable but there's some charm in that and a kind of reassurance that there's nothing too tragic or overwhelming to face. This is feel good and enjoyable, with laughs, smiles and contented sighs along the way.I haven't read any of McQueen's previous work but having enjoyed this so thoroughly I would definitely recommend her and wouldn't hesitate to pick up other work by her. A fantastic pick about real women with real issues!**Review originally published on Tweedle Dee and Tweedle Dave. I received a copy of the book in exchange for a fair and honest review. I did not receive any additional compensation and all views are my own.**