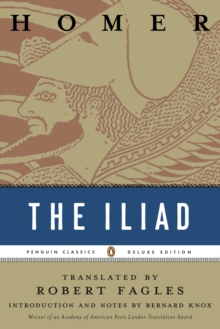 Description
One of the greatest epics in Western literature, THE ILIAD recounts the story of the Trojan wars.
This timeless poem still vividly conveys the horror and heroism of men and gods battling amidst devastation and destruction, as it moves to its tragic conclusion.
In his introduction, Bernard Knox observes that although the violence of the Iliad is grim and relentless, it co-exists with both images of civilized life and a poignant yearning for peace.
Information
Format: Paperback
Pages: 704 pages
Publisher: Penguin Books Ltd
Publication Date: 01/11/1998
Category: Poetry by individual poets
ISBN: 9780140275360
Other Formats
Paperback from £2.50
Hardback from £9.69
CD-Audio from £13.05
Free Home Delivery
on all orders
Pick up orders
from local bookshops
Reviews
Showing 1 - 5 of 23 reviews.
Previous | Next
Review by mattviews
16/06/2015
The movie Troy has revitalized my thirst for The Iliad and the reading of which has long been overdue. I decide to re-read this first work of Western literature in a different literary form: the prose translation by E. V. Rieu, who had first published in 1950 and has since achieved its classic status. Never before had this greatest of ancient Greek poet seemed so vivid, so accessible, approachable, and immediate to the English-speaking readers. This edition in review is a Penguin Classics 1988 revision of Rieu's translation that has timely incorporated the changes in linguistic and cultural idioms. E. V. Rieu's prose translation is as vivid and readable as Professor Richmond Lattimore's verse translation, which I had read in my undergraduate English class. The Iliad is set in the last year of the Greek siege of Ilium, a town in the region of Troy, which is now the northwestern Turkey and it all begins with a quarrel over a woman. On a visit to Sparta, Prince of Troy seduced and ran away with Helen, the wife of the Spartan ruler Menelaus. King Agamemnon, the imperial overlord of Greece, with his brother Menelaus, induced the princes who owe him allegiance to join forces with him against King Priam of Troy. The Greeks for 9 years had encamped beside their ships on the shore near Troy but without bringing the matter to a conclusion, though they had repeatedly looted and captured a number of Trojan towns, under the leadership of Achilles, Prince of Myrmidons, who had cultivated a gripe against Agamemnon.Success of raiding Troy led to a feud between Agamemnon and Achilles. Agamemnon had been allotted a girl named Chryseis as his prize, and he refused to give her up to her father, a local priest of Apollo, when he came to the camp with a ransom for her release. The priest prayed to Apollo and a plague ensued, forcing Agamemnon to give Chryseis up. But the unruly Agamemnon couped himself by confiscating one of Achilles' own prize, a girl named Briseis. It was such violet, public, unjust, and deeply humiliating attack on Achilles' assessment of his significance to the Greek army, along with Agamemnon's seize of Briseis that drove Achilles to withdraw himself and the Myrmidon force from the battlefield.Homer has written the epic with a delay of action, deferring Achilles to later part of the book in order to create a perception that he has covered the entire Trojan War. The Iliad, in this regard, in fact covers a few days of the last year of Trojan War, filling the pages with tight packing of action, the tugging to and fro between the two sides. It only centers on the aristocratic heroes (i.e. Hector, Paris, Aeneas, Achilles, Menelaus, Agamemnon, Diomedes, Ajax, and Odysseus), of whom they are named, but not the general mass of troops.As the Trojans got the upper hand and stormed the Greeks' defenses, Hector, the Trojan Commander-in-chief succeeded in setting fire to one of the Achaean ships. At this point Agamemnon had realized he had wronged Achilles, who had remained obdurate to all entreaties and repeated to the embassy the original accusation that he did all the fighting and Agamemnon got all the rewards. Achilles' bitter and grumpy speech against Agamemnon sheds light to what possibly Homer tries to convey as he has remained restrained in his narrative, leaving much room for private interpretation that one might experience difficulty to supply a definitive answer to question about the one main theme. Achilles had altered his view in life: no compensation could ever pay him back, because all the compensation in the world could not equate the worth of one's life, moreover the Trojans never did him any wrong until death had befallen Patroclus. All he had suffered by constantly risking his life in battle had left him no better off than anyone else. The Iliad tragedizes a hero who had been viscerally wronged: a man who was the son of a great man and a goddess, and yet for whom death and inexorable destiny were waiting. Patroclus' disastrous death brought Achilles to life and gave him a cause to fight. To him life was worth revenge on the person who killed his beloved companion. Achilles' greatness lies in his refusal to disclaim the responsibility for his actions, even though his own death would be the inevitable consequence. The greatness of The Iliad lies in the fact that Homer presents a broad mental picture of what he thought the Trojan battlefield looked like. The poetry may be linked with a tradition of oral poetry, which manifested fully in the repetition of patterns and descriptions that prevailed the epic that existed in the Mycenaean age. The modern reader can enjoy the book, as it was by the contemporary, for its own sake, as a vivid description of the Trojan War. Homer took what the tradition offered him and shaped it into The Iliad we now read, in perfect accordance with his own cultural assumptions.
Review by clothingoptional
16/06/2015
Don't read this book - listen to it. Epic poetry is meant to be recited...
Review by sarathena1
16/06/2015
Another book that I re-read annually. The characters in this story are among my favorites of all time. Their tragedies unfold like a very, very good Soap Opera. Reading it outloud adds a lyrical touch.
Review by lyzadanger
16/06/2015
What is this story? Timeless themes tangled in archaic notions that try the patience, but then wild and rhythmic passages that would hold up against any great poet of the modern age. It's a conundrum. At times so difficult I feared I wouldn't be able to pound through it, at other times stealing nights away until 4 a.m., full maddening fevered reading that left me nervy and with the chants of Greek names going through my dreams. My relationship to The Iliad is far different to my late-summer, torpid tale-spinning romance with The Odyssey. It's full of things that sit funny with me: Achilles, the anti-heroic hero, spiteful, vengeful, unmoved; Zeus, tyrant yet yielding; Athena, a mysteriously fierce female in a time of spurned and maligned women. The span of events is peculiar. We see neither the actions and consequences that launched the Achaean onslaught of Troy, nor do we get to hear the legends of Troy's end (i.e. Trojan Horse) or Achilles downfall (Paris' winged arrow to the ankle). It's assumed we already know that.In fact, you go in already knowing everything. The weight of fate, and the way the characters--knowing full well how things are going to come out--respond is the source of the pathos. Achilles: winding tighter in rage as his days are numbered; the gods batting at Achaeans like bored housecats though they know ultimate victory goes against Troy. Yes, the petty spats of the gods echoing out in massacre of mortals and changing tides of gruesome war. Gore and detailed guts. Rhythm. Ritual. Timelessness.As an aside: the Fagles translation is wonderful. Recommended.
Review by Demiguise
16/06/2015
The classic story of the Battle of Troy between the Greeks and the Trojans. The long war brought about by the abduction of Helen, who had a "face which launched a thousand ships".