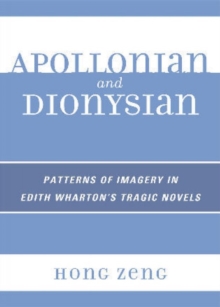 Apollonian and Dionysian : Patterns of Imagery in Edith Wharton's Tragic Novels
Paperback / softback
Description
Apollonian and Dionysian: Patterns of Imagery in Edith Wharton's Tragic Novels uses a Nietzschean lens to examine the manifestations of tragedy in Edith Wharton's major novels.
Author Hong Zeng singles out potent images within each novel that hearken back to the Apollonian and Dionysian drives discussed in Nietzsche's The Birth of Tragedy.
Using Nietzsche's insights and her own careful examination of the imagery and language contained in Wharton's most celebrated works, Zeng reveals the faded glamour of ancient tragedy that suffuses Wharton's writing and offers a carefully considered refutation of Wharton's critics.
Students, professors, and literary critics will appreciate this fresh examination of one of America's most famous female authors.
Information
Format: Paperback / softback
Pages: 98 pages
Publisher: University Press of America
Publication Date: 20/12/2008
ISBN: 9780761844679