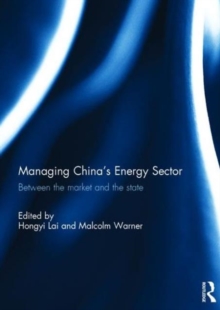 Managing China's Energy Sector : Between the Market and the State
Hardback
Description
Since China has now become the world's largest energy consumer, its energy sector has understandably huge implications for the global economy.
This book examines the transformation of China's conventional and renewable energy sectors, with special attention to state-business relations.
Two studies examine the development of China's energy profile, especially China's renewable energy.
Two others explore governmental relations with state-owned enterprises (SOEs) and their reform.
Despite drastic restructuring in the late 1990s, SOEs continue their oligopolistic control of the oil and gas sectors and even overshadow the stock market.
Three studies investigate the factors that help propel the expansion of China's conventional energy firms, as well as those producing renewable energy (i.e. solar PV industry). A study of China's solar PV industry suggests that China's governmental support for it has evolved from subsidising production (a "mercantile" stage aimed at expanding the industry's global production and export share) to subsidising the demand side (aiming at expanding domestic demand and absorbing redundant manufacture capacity).
Another review of this industry finds that firms tend to pay heavy attention to extra-firm institutional network relationships both inside and outside China, and that buyer-supplier networks are influenced by extra-local managerial education.
The final chapter compares China's provinces and their embedded carbon-footprints per capita in urban areas from a consumption perspective, using a self-organizing feature map (SOFM) model.
This book was originally published as a special issue of the Asia Pacific Business Review.
Free Home Delivery
on all orders
Pick up orders
from local bookshops