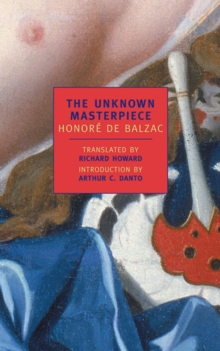 The Unknown Masterpiece
Paperback
Information
Format: Paperback
Pages: 160 pages
Publisher: The New York Review of Books, Inc
Publication Date: 31/08/2000
Category: Classic fiction (pre c 1945)
ISBN: 9780940322745
Other Formats
Hardback from £19.99
Paperback / softback from £4.95
Paperback from £10.09
Free Home Delivery
on all orders
Pick up orders
from local bookshops
Reviews
Showing 1 - 1 of 1 reviews.
Review by DieFledermaus
16/06/2015
The two stories included in this edition by NYRB complement each other very well - both feature intense, obsessive artists who skirt the line between genius and madness. There's something of a rambling style, where the focus is initially on a character who meets the artist, and hints of melodrama, as in both stories women are sacrificed to the madness of the artist. In some ways this structure is reminiscent of a couple of the other Balzac works that I read - melodramatic plots, too-good women, rambling trips with other characters before getting to the main plot, characters with all sorts of burning obsessions. But the other ones I read tended to examine society and relationships - people were obsessed with money, love or status. Here, both characters are obsessed with art. The background issues pale in comparison with their overly exuberant passions. Balzac's depiction of the possible craziness of the artist is masterfully done. It's also interesting to speculate what inspired him as well as compare the art described to contemporary painting and music.In The Unknown Masterpiece, we follow Nicolas Poussin circa 17th c. as he goes to meet the court painter Porbus. Both were real people but they can't compare - as characters or artists - to Frenhofer, an old artist who Poussin meets at Porbus' studio. Frenhofer monologues about the lack of a lifelike spark in Porbus' painting and proceeds to touch it up, bringing the picture to life - to the amazement of Poussin and Porbus. Poussin is impressed and is impatient to see Frenhofer's magnum opus, a portrait that he has worked on for years and won't display. He tries to tempt Frenhofer with his mistress Gillette, driving a wedge between the couple, but soon learns that though Frenhofer may be a genius, he is definitely crazy.Gambara is similar - rich Italian nobleman Andrea Marcosini encounters Gambara, a penniless composer, and his selfless wife Marianna; Gambara creates beautiful music but also has a horribly dissonant opera that he has labored over for years. Gambara is also prone to passionate speeches on music. Some of it is odd - his speculation on the science of music - and some probably won't be generally appealing as it goes on longer thatn The Unknown Masterpiece (I like opera and therefore didn't mind Gambara's blow-by-blow account of first his unperformed masterpiece Muhammad, then Meyerbeer's then-popular-now-forgotten opera Robert le Diable but that may bore some readers). However, Gambara's obsession dominates the book, even though some of the plot is devoted to Andrea's and Marianna's reactions to the artist.Frenhofer and Gambara are both quintessential Romantic artists but the descriptions of their masterpieces, which show them to be deluded to the other characters, mark them as avant-garde modernists to contemporary readers. Picasso was inspired by the description of Frenhofer and his portrait sounds like nothing so much as an all-but abstract painting. Gambara's music is unpleasantly harsh - but piles of musical masterpieces were originally dismissed as dissonant garbage. Did wonder if it was just a chromatic late-Romantic sound or full-on atonal. Both artists are working from an intense personal inspiration after years of work and sacrifice. Their obsession has possibly reached the point of madness and both are isolated and dismissed. Their madness today, though, would fit an artistic stereotype and their art would get a shrug.