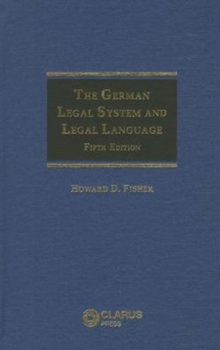 The German Legal System and Legal Language
Book
Description
The German Legal System and Legal Language is an established, reliable, and practical resource and learning tool, designed to give English language readers a clear and authoritative guide to the German legal system and its special language.
Now in its fifth edition, this book has been fully revised and updated, and it includes a full set of appendices, comprising a list of abbreviations, a vocabulary of selected German and Latin words and phrases, a table of cases, and a paragraph register.
It is a broad and systematic survey of some of the main areas of German public and private law.
The meanings of innumerable German legal expressions and principles are clarified.
In addition, attention is occasionally drawn to equivalent concepts and norms found in English law.
Together, this material represents a unique compendium of information on a subject in which accuracy and experience can be vital.
The book is a valuable source of reference for anyone interested in the German legal system and legal language.
Information
Format: Book
Pages: 900 pages
Publisher: Clarus Press Ltd
Publication Date: 20/02/2013
Category: Legal system: general
ISBN: 9781905536511