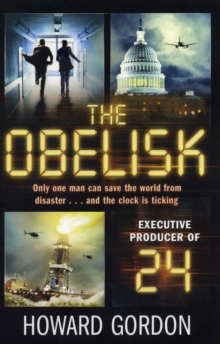 Description
Gideon Davis, whose behind-the-scenes negotiating skills have earned him the role of peacemaker in conflicts around the globe, knows more about hush-hush discussions in Capitol corridors than he does about hand-to-hand combat.
But his more practical, tactical skills become vital when he's called upon by family friend and government big-wig Earl Parker to bring in a rogue agent - Gideon's own brother Tillman.
Gideon is transported from a DC awards dinner to the jungles of the oil-rich nation of Mohan, where Tillman has promised to give himself up.
But on his arrival the plan goes immediately awry. Gideon must evade hostile locals to make his way to The Obelisk - a multi-million-dollar, state-of-the-art oil rig that has been seized by terrorists.
Both Tillman, who doesn't seem to have surrender in mind, and Earl Parker are aboard the ill-fated rig - Tillman working undercover and Parker as a hostage.
As tensions rise, Gideon launches a hazardous one-man rescue.
Information
Format: Paperback
Pages: 336 pages
Publisher: Simon & Schuster Ltd
Publication Date: 20/01/2011
ISBN: 9781847379047
Other Formats
EPUB from £2.99
Paperback from £6.39
Free Home Delivery
on all orders
Pick up orders
from local bookshops
Reviews
Showing 1 - 2 of 2 reviews.
Review by adpaton
16/06/2015
This is Howard Gordon's debut novel – a writer and executive producer of hit TV series like 24 and The X-Files, he illustrates the old adage about the cobbler sticking to his last perfectly. Negotiator extraordinaire Gideon Davis is an honoured guest at a Presidential awards dinner when he is called away urgently to apply his skills in Mohan [a troubled oil-rich Sultanate: any similarities to Bahrain are purely coincidental] where a state-of-the-art oil rig is besieged by terrorists. An added twist is the insurgents are led by Gideon's own brother Tillman, and the rig is due to explode killing everyone including Kate, the love interest, unless Gideon disarms the bombs. Gordon's not a bad writer but would be well advised to stick to TV where action counts more than content.
Review by HenriMoreaux
16/06/2015
The Obelisk (or Gideon's War in some markets) is the debt novel from Howard Gordon, a producer of the action packed show '24' starring Keifer Sutherland as Jack Bauer. What at first seems like a simple straight forward mission for the main character quickly becomes a mess of intermingled loyalties and deception. Unlike a lot of modern thrillers which are reliant upon tech gizmos, computers and other crap to advance the plot and provide action The Obelisk stays with the basics and keeps it interesting.Plenty of twists and paths that lead to unexpected developments (just like an episode of 24) as well as a healthy does of realism.I shall definitely be checking out the follow up novel 'Hard Target'.