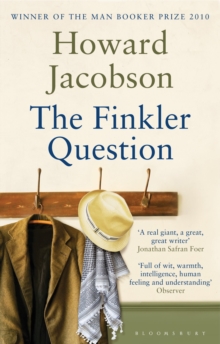 The Finkler Question
Paperback
Description
WINNER OF THE MAN BOOKER PRIZE Julian Treslove, a professionally unspectacular former BBC radio producer, and Sam Finkler, a popular Jewish philosopher, writer and television personality, are old school friends.
Despite very different lives, they've never quite lost touch with each other - or with their former teacher, Libor Sevcik.
Both Libor and Finkler are recently widowed, and together with Treslove they share a sweetly painful evening revisiting a time before they had loved and lost.
It is that very evening, when Treslove hesitates a moment as he walks home, that he is attacked - and his whole sense of who and what he is slowly and ineluctably changes.
Information
Format: Paperback
Pages: 384 pages
Publisher: Bloomsbury Publishing PLC
Publication Date: 01/05/2011
ISBN: 9781408809938
Other Formats
EPUB from £7.19
Paperback from £12.89
Free Home Delivery
on all orders
Pick up orders
from local bookshops
Reviews
Showing 1 - 5 of 9 reviews.
Previous | Next
Review by valerie2
16/06/2015
Despite never engaging with the story line or any of the characters I persevered with this book until the end, and can now say with my hand on my heart -- thank goodness it's over! According to the blurb on the back of the book, and various reviews I had read, it was supposed to be funny ... obviously my sense of humour runs differently because I failed to find it even mildly amusing. The central character is a self-absorbed middle aged man who does nothing for the duration of the book except try to convince himself he's Jewish (he isn't), seemingly because he's jealous of his more successful "friend", and his older mentor, both of whom are Jewish (I use the term "friend" reservedly because the two don't actually seem to like each other very much). Really, who cares? Yes, I learned some things about Jewish faith, culture and history which were vaguely interesting, but apart from that there were simply no points of interest in this book. I'm assuming that the intent in writing was to promote the Jewish faith but by using a suite of (largely) objectionable and/or pathetic characters I struggle to see how the author thought he would be successful - but then, the Booker Prize judges obviously disagree.I'm tempted to think that, if this was the Booker Prize winner, I'd best avoid any of the long- or shortlisted books which were, by default, less worthy ... however it seems that the Booker Prize judges and I rarely see eye to eye. I have previously enjoyed many of the long- and short-listed books, but perhaps I'd best steer clear of the actual Booker Prize winners in future.
Review by NeilDalley
16/06/2015
I found this book a chore and cannot imagine how it ever won the Booker Prize.
Review by Auto_Da_Fe
16/06/2015
There is an extraordinary disjunction between the blurbs ("the greatest novelist working in Britain today"; "like Shakespeare only more so") and the actuality of this very mediocre novel.
Review by dtw42
16/06/2015
Funny and well written, but ultimately (for me at least) a little unsatisfying. Perhaps this is because I like a book where the plot is all nicely resolved at the end. Here it just sort of stops. The initial trigger for Treslove's character arc (I won't call it character development, because he's still a twit at the end like he was at the start) turns out to be something of a maguffin: only there to be that trigger, and then abandoned since it serves no other purpose. So when I finished the final page and had not found out the identity of Treslove's mugger, or what (if anything) she <i>had</i> actually said to him, it was a bit anticlimactic.Now for the tricky bit: was it all supposed to be about Jewishness, or about British Jewishness, or about the British non-Jew's relationship to Jewishness? I'm not sure, maybe all of those. It seemed the characters' lives were defined by this search for and attempt to define their own identity, in a way that feels utterly foreign to me.Oh, and on the front cover of my edition, Jonathan Safran Foer is quoted as saying, "I don't know of a funnier writer alive." Really? I mean, REALLY? Yes, Jacobson IS funny, but if Foer knows no funnier then he needs to be sent some out-and-out comedy books, FAST.
Review by etxgardener
16/06/2015
This book was picked for my book club because it won the 2010 Booker Prize. I can only ask why since it read like a novelization of a very bad Woody Allen movie. Julian Treslove is an educated loser who has been fired by the BBC &amp; now makes his living as a celebrity "look-alike" and decides, based on being mugged by an angry woman, that he's been mistaken for a Jew. His school friend, Sam Finkler, is a secular Jew who has become enormously successful writing self-help books based on philosophy with titles like <I>The Existentialist in the Kitchen</I>. The third member of the triumvirate is Libor Seveik, their old teacher. Togetrher they ruminate for pages &amp; pages about what does it mean to be Jewish (or to be a "Finkler" as Treslove somewhat anti-Semetically puts it), the role of Israel in the world &amp; the rise of anti-Semitism in England &amp; Europe.Harold Jacobson has been billed the Phillip Roth of Britain &amp; the Mann Booker jury obviously thinks highly of him. Call me a philistine, but I gave up on this one around page 100.