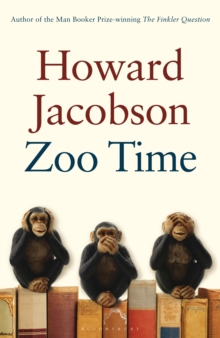 Description
Novelist Guy Ableman is in thrall to his vivacious wife Vanessa, beautiful but contrary, highly strung and blazingly angry.
The trouble is, he is no less in thrall to her alluring mother, Poppy.
Their provocative presence fills Guy's head with stories so wild he can't concentrate to write them.
Not that anyone reads anymore, anyway. Reading, Guy fears, is finished. His publisher, fearing the same, has committed suicide.
His agent, like all agents, is in hiding. Vanessa, however, is writing her own novel. Guy dreads the consequences...Our funniest writer at his brilliant best, Zoo Time is a novel about love - love of women, love of literature, love of laughter.
Information
Format: Hardback
Pages: 384 pages
Publisher: Bloomsbury Publishing PLC
Publication Date: 30/08/2012
ISBN: 9781408828687
Other Formats
Paperback from £7.15
EPUB from £6.39
CD-Audio from £17.95
Free Home Delivery
on all orders
Pick up orders
from local bookshops
Reviews
Showing 1 - 2 of 2 reviews.
Review by Helenliz
16/06/2015
 Maybe this was just me, but I didn't find anything in this book terribly engaging. It's a book about an author and the apparent dichotomy of there being many authors and fewer people actually reading anything. He can't bear the thought of his non-existent readers not reading his next big book, so this book is spent mostly following him trying to come up with a story. He gets a bit obsessed about his wife's mother - who sounds a bit like mutton dressed as lamb, she dresses and looks more like a sister than a mother. And it's all a bit crude, pretentious, repetitive and the fictional hero/antihero deserves a good slap for being a complete self centered arse. No, I didn't like him, them, the book, the language (too many f**k & c**ts littered about for my taste - having been brought up to believe an expletive is what you use when you can't express yourself properly in the English language) or anything about it. Why I listened to the entire thing, I'm not sure - I suppose I expected it to get better... Disappointing.
Review by Micalhut
16/06/2015
Howard Jacobson writes a novel about a writer who is writing a book about a writer in current day London. The protagonist in both books is utterly unlikable in every aspect except that he makes acute, hilarious and smack-dab smart observations about reading/readers, literature, art and the publishing world. He also hilariously hits nearly every single single self-absorbed narcissistic thought that every writer/artist has ever had about himself/herself and their craft, but wishes they hadn't, which makes reading it sometimes painful. Jacobson hilariously dives into the shadow of living as a writer. Not liking someone has never been so thought-provoking and laugh-out-loud funny. The ending is tremendously surprising and hopefully without adding a spoiler, the protagonist seems to (possibly) be growing as a feeling and ethical human being, or at least is considering it. It's dirty. Some say for the sake of being dirty, I say, it's essential to what he's trying to accomplish in exposing the underbelly of being an artist, because most art is highly self-absorbed, and his protagonist's literary heroes were overtly sexual males as well. It is splendidly twisted.