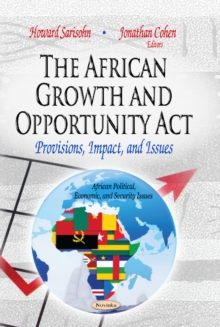 African Growth & Opportunity Act : Provisions, Impact & Issues
Paperback / softback
Description
In 2000, Congress passed the African Growth and Opportunity Act (AGOA), a U.S. trade preference program, in order to help spur market-led economic growth and development in sub-Saharan Africa (SSA) and deepen U.S. trade and investment ties with the region. Since its enactment, Congress has amended AGOA five times, making some technical changes and renewing the trade preferences through September 30, 2015.
According to the Assistant U.S. Trade Representative, (USTR) for Africa, "AGOA is the cornerstone of America's trade and investment policy with sub-Saharan Africa." Economic conditions in Africa, however, have changed considerably since Congress passed the initial AGOA legislation.
Annual real gross domestic product (GDP) growth in SSA was nearly a full percentage point lower than global GDP growth (2.3% vs. 3.2%) in the decade leading up to AGOA's passage (1990-2000).
Over the last ten years, however, SSA's growth averaged 5.7%, two points higher than the 3.7% world average.
While the region still contains many of the world's poorest countries and faces significant economic challenges, some observers and policymakers argue that changing economic conditions warrant an evolution in U.S. policy toward SSA, focused more strongly on private sector investment and increasing two-way trade.
In recent years, SSA's growing economic potential and abundant natural resources have attracted other foreign investors, including state- supported enterprises from countries such as China, which is now the region's largest trading partner.
This book seeks to inform the discussion on the potential reauthorization of AGOA through analysis of: (1) the components of the AGOA legislation; (2) U.S. import trends associated with AGOA; (3) the impact of AGOA on African economies and U.S.-Africa trade; and (4) the issues surrounding the reauthorization process.
Information
Format: Paperback / softback
Pages: 90 pages
Publisher: Nova Science Publishers Inc
Publication Date: 01/12/2013
Category: Development studies
ISBN: 9781629482996
Free Home Delivery
on all orders
Pick up orders
from local bookshops