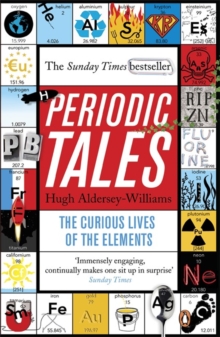 Periodic Tales : The Curious Lives of the Elements
Paperback
Description
The phenomenal Sunday Times bestseller Periodic Tales by Hugh Andersey-Williams, packed with fascinating stories and unexpected information about the building blocks of our universe. Everything in the universe is made of them, including you. Like you, the elements have personalities, attitudes, talents, shortcomings, stories rich with meaning. Here you'll meet iron that rains from the heavens and noble gases that light the way to vice.
You'll learn how lead can tell your future while zinc may one day line your coffin.
You'll discover what connects the bones in your body with the Whitehouse in Washington, the glow of a streetlamp with the salt on your dinner table. Unlocking their astonishing secrets and colourful pasts, Periodic Tales is a voyage of wonder and discovery, showing that their stories are our stories, and their lives are inextricable from our own. 'Science writing at its best. A fascinating and beautiful literary anthology, bringing them to life as personalities.
If only chemistry had been like this at school. A rich compilation of delicious tales'Matt Ridley, Prospect 'A love letter to the chemical elements. Aldersey-Williams is full of good stories and he knows how to tell them well'Sunday Telegraph 'Great fun to read and an endless fund of unlikely and improbable anecdotes'Financial Times 'The history, science, art, literature and everyday applications of all the elements from aluminium to zinc' The Times Hugh Aldersey-Williams studied natural sciences at Cambridge.
He is the author of several books exploring science, design and architecture and has curated exhibitions at the Victoria and Albert Museum and the Wellcome Collection.
He lives in Norfolk with his wife and son.
Information
Format: Paperback
Pages: 464 pages, 60 b/w integrated
Publisher: Penguin Books Ltd
Publication Date: 19/01/2012
Category: Popular science
ISBN: 9780141041452
Free Home Delivery
on all orders
Pick up orders
from local bookshops
Reviews
Showing 1 - 3 of 3 reviews.
Review by donnambr
16/06/2015
I'll be honest enough to admit that I don't read non-fiction as often as I'd like but every now and again something catches my eye. This had been on my wishlist so when it came up on Amazon Vine I leapt at the chance to read it.I'm very glad I did. The last book that caught my interest in this way was The Shocking History of Phosphorus: A Biography of the Devil's Element, a book I enjoyed so much I read it twice. Periodic Tales does not have the space to devote such attention to each individual element but nonetheless gives a good introduction to the history of the elements and introduces a great deal of information that many of us will never have encountered before.Although it will doubtless appeal most to those who have an interest in science, medicine or history in general, there is much to recommend this book to anyone who enjoys reading non-fiction. It is very well written and the author's great interest and passion about his subject is evident. It is also filled with historical anecdotes and tales that really bring it to life.
Review by PilgrimJess
16/06/2015
Had I not found this book on a train with a 'Read Me' sticker on it I would never have heard of it let alone read it and I would have missed out on an interesting read.Firstly I must admit that I never did much enjoy Chemistry at school in or for that matter science in general, I could never remember even the most basic of chemical formulae, and as such knew little about the Periodic Table other than seeing posters of it hung on classroom/bedroom walls. However, that said I have always been interested in History in whatever form. Initially I was somewhat worried that this would turn out to be a dull academic tome and while in places it did lose me a little and was a little dry, on the whole there was enough to keep me interested. In particular I loved the referances to modern culture/literature and even how obscure elements that I had never even heard of were often found right under our very noses within our houses. I loved the idea how gold historically has been seen as masculine and silver was seen as virginal and feminine. Where did the term 'platinum blonde' of the 40's and 50's come from? Was Napoleon Bonapart killed by his wallpaper? The author names the major discoverers of various elements but on the whole does not go into too much indepth history. For that reason some people will see it as too flighty and shallow where others will just find the whole subject matter too dull to persevere.But if you fancy a book that you can dip into a chapter or two at a time, picking up a few interesting snippets along the way with which to annoy/ fascinate your partner or mates down the pub, plus have a passing interest in both/either science and history then give it a go. Who knows you might actually learn something and that can be no bad thing.
Review by amarcobio
16/06/2015
Each chapter tells an independent story somewhat related with a chemical element. Some stories are fun and/or interesting, but it is a bit of a boring book. Something is missing, perhaps a story underlying the whole book, or at least parts of it.
Also by Hugh Aldersey-Williams | View all