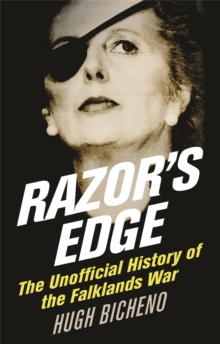 Razor's Edge : The Unofficial History of the Falklands War
Paperback
Description
The controversial memoir of a top British spy which finally reveals what really went on behind the scenes of the Falklands WarFor five years before the Falklands War, Hugh Bicheno was one of the top British spies in Argentina. As such, he gathered hard, corroborated intelligence on Argentine intentions over the Falklands - which the British establishment then chose to ignore.
The reasons behind this British decision, and its disastrous and inevitable consequences in the South Atlantic, are the main story of this book.There were three main players in the war, each of them trying to overcome their own cultural baggage.
The Argentines were riddled with guilt: after years of fighting a morally repugnant campaign against its own people, the Argentine military saw a war for the Malvinas islands as a perfect opportunity to win back their self-respect.
The hands of the Americans were also bloody from the likewise dirty wars they had sponsored and abetted in Central America.
For Britain it was simply the last straw after decades of humiliation.
Information
Format: Paperback
Pages: 400 pages, 34 Maps
Publisher: Orion Publishing Co
Publication Date: 01/03/2007
Category: General & world history
ISBN: 9780753821862
Free Home Delivery
on all orders
Pick up orders
from local bookshops
Reviews
Showing 1 - 1 of 1 reviews.
Review by cwhouston
16/06/2015
This is the only book that I've read about the Falklands war and I don't feel the need to read another. The author does a great job of mixing the strategic political aspects with the nitty-gritty and detail of the conflict. There is also a healthy dash of polemics thrown in, with the MoD receiving some harsh criticism - some of it possibly unfair.Bicheno has a background in intelligence and direct experience of Argentina and the UK armed forces which he uses to present what reads as a very balanced account of the conflict. That said, he makes no qualms about expressing his opinion that the Argentines were the aggressors and places the war in the context of the 'Dirty War' waged by the junta on its own people. The Labour Government prior to Maggie and the FCO also take a bit of a hammering for the appeasement that the author (plausibly) asserts led directly to the Argentines believing the UK would not fight.At the detailed level, the maps and descriptions of the topography of the battlefields on the Falklands are very clear and are interwoven into the text to a degree that surpasses any military history that I've read.In summary a great read - informative, entertaining and in places laced with black humour and irony. It is not, however, dispassionate nor is it a 'guns n ammo' account of the war.