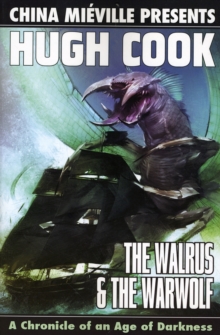 The Walrus & The Warwolf
Paperback
Description
On his 16th birthday, churlish Drake Douay finds himself exiled from hishomeland amid a treacherous crew of pirates on the open sea.
Through battleswith sea monsters, mysterious cults, weird technology of a bygone age, and thewarring gangs of two pirate lords, Drake explores a world of dark fantasy andbetrayal with his keen wit and a sharp sword - his only protection from anearly death!Never before published in a North American edition, The Walrus & TheWarwolf is the most popular of Hugh Cook's 10-volume Chronicles of an Ageof Darkness series, which blends fierce sword & sorcery action withvivid world-building to create a modern classic of fantasy.
Author China Mieville (Perdido St. Station, The Scar)provides an insightful, amusing introduction to Cook's unforgettablebook.
Information
Format: Paperback
Pages: 400 pages
Publisher: Paizo Publishing, LLC
Publication Date: 15/06/2010
Category: Fantasy
ISBN: 9781601252142
Free Home Delivery
on all orders
Pick up orders
from local bookshops