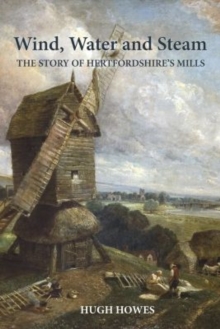 Wind, Water and Steam : The Story of Hertfordshire's Mills
Paperback / softback
Description
Hertfordshire has an unusually rich and diverse milling heritage.
As well as its long tradition of corn milling, the county once enjoyed a reputation for the milling of a variety of other products, including pioneering papermaking in the west of the county, gunpowder and small arms in the east, and also silk and cotton.
There are records of 110 watermills and 71 windmills in Hertfordshire but little physical evidence of most of them remains today.
Of the few that do survive, eight are accessible to the public and offer unique insights into the past.
Heavily illustrated with both historic and contemporary photographs, this book acts as an invaluable guide to these mills and also provides a comprehensive gazetteer of all known Hertfordshire mills, whether extant, in ruins or demolished.
Many of the water-mill sites pre-date Domesday Book, and for many centuries milling continued more or less unchanged.
Then, in the nineteenth and twentieth centuries, radical changes took place that fundamentally altered and finally destroyed whole sectors of the milling industry.In recounting the social and economic history of all the varieties of milling in the county, Hugh Howes focuses on key advances in technology and the opportunities brought about by improved transport. Proximity to London helped the Hertfordshire mills to thrive but also undermined them - when the major corn exchanges were established in the City of London and when vast quantities of imported grain began to arrive at the capital's docks.
The success with which individual millers were able to meet these challenges determined whether or not they survived.
Moving away from the vagaries of wind and water by switching to steam power and, ultimately, electricity was one of the keys to prosperity, while up-to-date milling equipment and good access to both imported grain and expanding markets were also to prove crucial.
This is a highly engaging account of a long-established commercial activity that touches on many important aspects of our history, both locally and nationally.
Information
Format: Paperback / softback
Pages: 160 pages, 150 black and white illustrations; 16-page full colour section
Publisher: University of Hertfordshire Press
Publication Date: 30/05/2016
Category: British & Irish history
ISBN: 9781909291737
Also by Hugh Howes