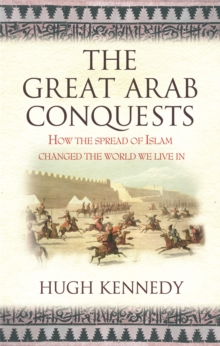 The Great Arab Conquests : How the Spread of Islam Changed the World We Live in
Paperback
Description
A popular history of the Arab invasions that carved out an empire from Spain to ChinaToday's Arab world was created at breathtaking speed.
Whereas the Roman Empire took over 200 years to reach its fullest extent, the Arab armies overran the whole Middle East, North Africa and Spain within a generation.
They annihilated the thousand-year-old Persian Empire and reduced the Byzantine Empire to little more than a city-state based around Constantinople.
Within a hundred years of the Prophet's death, Muslim armies destroyed the Visigoth kingdom of Spain, and crossed the Pyrenees to occupy southern France.
This is the first popular English language account of this astonishing remaking of the political and religious map of the world.
Hugh Kennedy's sweeping narrative reveals how the Arab armies conquered almost everything in their path.
One of the few academic historians with a genuine talent for story telling, he offers a compelling mix of larger-than-life characters, battles, treachery and the clash of civilizations.
Information
Format: Paperback
Pages: 448 pages, 9 Maps
Publisher: Orion Publishing Co
Publication Date: 16/04/2008
Category: General & world history
ISBN: 9780753823897
Free Home Delivery
on all orders
Pick up orders
from local bookshops
Reviews
Showing 1 - 1 of 1 reviews.
Review by iftyzaidi
16/06/2015
This book is a superb example of popular history that retains scholarly authenticity. Hugh Kennedy manages to not only write in an accessible, engaging style that is perfect for the layman, he also takes the time to address scholarly issues such as the historiography of the topic, the different sources we have about the conquests and their limitations, and finally the broad contours of some of the debates surrounding this time period. The book is well organised and the chapters concise. A bunch of maps up front make it easy to follow the events being narrated. Some may disagree with some of Dr. Kennedy's interpretations, but in the best scholarly fashion, he always presents his reasoning and looks at different interpretations. The narrative is based on various Arab sources, as well as Persian, Copt, Byzantine, Jewish, Spanish, Frankish, Nestorian and even Chinese accounts. Dr. Kennedy also refers to archaeological evidence from excavation sites, found artefacts, carvings and even a shipwreck. The author is careful to point out where accounts differ, where they agree and explains why one might be taken to be more authentic than the other. In some cases he points out why and how even obviously fanciful or apocryphal accounts may be of value to the historian.The only quibble I would have is that the narrative can drag a little, particularly in the chapters on the conquests of Transoxonia and Iran. One can't fault Dr. Kennedy for being comprehensive but sometimes the litany of siege, raid, occupation and so on can become slightly repetitive to read. This minor quibble aside, this is a fine work and highly recommended for anyone seeking to to learn about how the Arabs came to conquer an empire as large of that of Rome at its height.