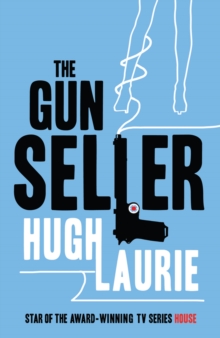 Description
When Thomas Lang, a hired gunman with a soft heart, is contracted to assassinate an American industrialist, he opts instead to warn the intended victim - a good deed that doesn't go unpunished.
Within hours Lang is butting heads with a Buddha statue, matching wits with evil billionaires, and putting his life (among other things) in the hands of a bevy of femmes fatales, whilst trying to save a beautiful lady ... and prevent an international bloodbath to boot. A wonderfully funny novel from one of Britain's most famous comedians and star of award-winning US TV medical drama series, House.
Information
Format: Paperback
Pages: 352 pages
Publisher: Cornerstone
Publication Date: 07/10/2004
ISBN: 9780099469391
Free Home Delivery
on all orders
Pick up orders
from local bookshops
Reviews
Showing 1 - 5 of 8 reviews.
Previous | Next
Review by Anome
16/06/2015
Another brilliant debut. The brilliant thing about it is the way it avoids deriving humour from unrealistic situations, but instead manages to derive it entirely from the central character's wit.There has been rumour of a film for some time now, but it seems to be stuck in development hell. A pity. Here's hoping that Hugh can find time between seasons of <i>House</i> to write his next novel which has been promised for almost as long.
Review by JustAGirl
16/06/2015
Hugh Laurie is a great comedian and actor, can sing and apparently play any instrument he takes a fancy to and is a naturally gifted sportsman. And this, his only book, is a wonderfully funny comic spy thriller. Hugh Laurie is a git.
Review by armysparkey
16/06/2015
I was plesantly suprised by this book it has a well paced storyline although the end was i felt slightly off
Review by bluejulie
16/06/2015
A perfect light read. The plot is decent enough and the characterization is good. The best thing of the novel is Mr. Laurie's ability to carry over his skill at humour from his acting work into writing. On several instances I laughed aloud at re-read several sections to marvel at his brilliant use of puns and jokes.
Review by ashergabbay
16/06/2015
Finding out about the existence of a Hugh Laurie novel 15 years after the book was first published is something I am not proud of. As a fan of "A Bit of Fry and Laurie" and "Blackadder", I have no idea why I didn't check earlier if Laurie ever wrote a book! I did check Stephen Fry and read "The Book of General Ignorance", so why not Laurie? I bow my head in shame for overlooking this book for so long.Anyway, needless to say, I enjoyed "The Gun Seller" very much. It made me laugh out loud several times, not an easy feat for a book. The basic plot is about this retired army officer, Thomas Lang, who is hired to kill someone but decides to warn the victim instead of killing him. This ends him up mixed up in a CIA-led conspiracy to protect the development and marketing of a next-gen attack helicopter. There are the usual action-packed passages and international conspiracy intrigues, but this is hardly your run-of-the-mill suspense novel. You can tell Laurie uses the genre merely as an excuse to play around with English witticisms and delight the reader.Here are a few quotes I highlighted during my reading; admittedly, some of them might be funnier only when read in context:About London cabbies: The meter said six pounds, so I passed a ten pound note through the window and watched a fifteen-second production of 'I'm Not Sure I've Got Change For That', starring licensed cab driver 99102, before getting out and heading back down the street (Kindle location 1076)About Americans' use of the word "period": Saying period at the end of something doesn't make it incontrovertible (Kindle location 1391)About Germans in Prague: But then of course, for most Germans, Prague is only a few hours away by fast tank, so it's hardly surprising that they treat the place like the end of their garden (Kindle location 3412)About journalists: The few journalists I've spoken to in my life all seemed to have this in common: an attitude of perpetual exhaustion, brought on by dealing with people who just aren't quite as fantastic as they are (Kindle 4356)
Also by Hugh Laurie