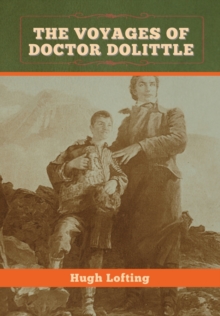 The Voyages of Doctor Dolittle
Hardback
Description
Hugh John Lofting (14 January 1886 – 26 September 1947) was an English author trained as a civil engineer, who created the classic children's literature character of Doctor Dolittle. It first appeared in illustrated letters to his children written by Lofting from the British Army trenches in World War I.
Hugh Lofting's character Doctor John Dolittle, an English physician from Puddleby-on-the-Marsh in the West Country, who could speak to animals, first saw light in the author's illustrated letters to children, written from the trenches during the 1914–1918 War, when actual news, he later said, was either too horrible or too dull. The stories are set in early Victorian England in the 1820s–1840s (The Voyages of Doctor Dolittle gives a date of 1839). He was living in Killingworth, Connecticut, while he wrote most of the instalments to the series.
The Story of Doctor Dolittle: Being the History of His Peculiar Life at Home and Astonishing Adventures in Foreign Parts Never Before Printed (1920) began the series and won the Lewis Carroll Shelf Award in 1958. The sequel The Voyages of Doctor Dolittle (1922) won Lofting the prestigious Newbery Medal. Eight more books followed, and after Lofting's death two more appeared, composed of short previously unpublished pieces.
The internal chronology of the books is somewhat different from the publishing order. The first book is followed by Doctor Dolittle's Post Office (1923), Doctor Dolittle's Circus (1924) and Doctor Dolittle's Caravan (1926). Only then follows the second book, The Voyages of Doctor Dolittle (1922), continued by Doctor Dolittle's Zoo (1925). After that, the publishing order is restored; Doctor Dolittle's Garden (1927) is followed by Doctor Dolittle in the Moon (1928) and Doctor Dolittle's Return (1933), ending with Doctor Dolittle and the Secret Lake (1948). (wikipedia.org)
Information
Format:Hardback
Pages:268 pages
Publisher:Bibliotech Press
Publication Date:11/07/2020
Category:
ISBN:9781647997144
Other Formats
Hardback from £5.35
Paperback / softback from £2.50
EPUB from £5.93
eAudiobook MP3 from £11.87