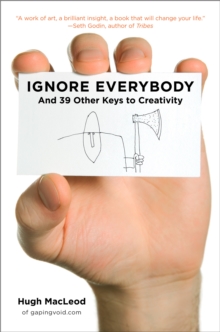 Ignore Everybody : And 39 Other Keys to Creativity
Hardback
Free Home Delivery
on all orders
Pick up orders
from local bookshops
Reviews
Showing 1 - 5 of 8 reviews.
Previous | Next
Review by billmcn
16/06/2015
Low page count, big type, broad spaces between the lines, and lots of cartoons. As MacLeod cheerfully admits in the beginning, this is more of an extended blog post than a book, so there's not much sense in buying it when you can finish the thing in about half and hour while sitting in the Barnes and Noble cafe. <em>Ignore Everybody</em> is a lively self-help pep talk for people who want to achieve some kind of success in a creative field. MacLeod was an artist in New York who paid the bills by working in an advertising agency, and from this archetypal vantage point he managed to collect a few gems of good advice: do your own work diligently, don't care what other people think about you, don't waste your energy worrying about selling out. Basically, don't buy into the whole adolescent idea of the romantic artist who wows naysayers with a single burst of effortless genius. It's nothing that hasn't been said before, but since there are new eighteen year-olds coming on line all the time it can't hurt to have it said again. The one novel detail in <em>Ignore Everybody</em> is MacLeod's cartoons. These are sarcastic line-drawing doodles originally done on the backs of business cards about how hard it is to make art and/or get laid in New York City. Throughout the book MacLeod comes back to his business card cartoons as a case study of how to make it in the art world. The fact that they were done spontaneously, for his own amusement, with no thought of pleasing anyone else or achieving commercial success is the reason why they became so successful and he became famous as the back-of-the-business-card guy. The what? The hunh? The book seems to take for granted that we've all heard of the back-of-the-business-card guy and are curious to hear how he made it so big. So add to MacLeod's list another useful piece of advice for aspiring creative types: always overestimate your own importance.
Review by alluvia
16/06/2015
Totally invigorating and spot on!!! Loved it, want to hand it around to friends. It's like a hip, funny, zen and ultra-condensed version of Rollo May's "The Courage to Create". With pictures! I especially loved his concept of "sovereignty" over your art / creative pursuit.
Review by fsmichaels
16/06/2015
Some interesting ideas, but more really obvious ones (e.g. "work hard"). A book is a whole package, design and layout, and the text layout was distracting too.
Review by tscrobinson
16/06/2015
I read this book in one sitting and absolutely loved it and would recommend it to anyone that is working in the creative field, which I happen to think is everyone! Hugh MacLeod is a cartoonist that created the popular blog, the "Gaping void." He tells his own story of working in the advertising world and being a copywriter and having his own creativity slowly suffocated by this environment. His writing in both witty and insightful and he asks the question: "Where does creativity come from?" and talks about how to your nurture your own ideas without having them destroyed by others or your own internal voice that starts comparing your work to the work of others.Hugh shares how he took ownership of his own work and tells that the desire for success prevented him from just doing the work that he wanted to do. In the end he explains it is about sitting down and doing the work and taking risks and being authentic to yourself and ignoring to some extent, the world around you and those voices. Hugh points out "The more original your idea is, the less good advice people will be able to give you."The book is full of Hugh's cartoons. I found myself reading, laughing and nodding my head from the first page to the last. While the book will not teach you how to be creative, it has a good chance of inspiring you. My recommendation is to read the book, then put it down and get back to creating something wonderful.
Review by bolgai
16/06/2015
In a way I really enjoyed this book - there is a certain freshness in the unapologetic way the author talks about things that are generally common sense but may not be popular subjects to discuss with the creative crowd, such as that there will be hard times, or that relying on being "discovered" is foolish, or even that you may never make it big at all. He calls out those who waste their lives in meaningless bill-pay jobs while waiting for the big break in whatever their creative outlet is, and those who he dubs Watercoolies: the chronic complainers with stagnant careers. There are anecdotes from MacLeod's life that illustrate the point of every chapter and there are his business card cartoons that either drive that point home, entertain, or give more food for thought. These make the already short book a fast and easy read that avoids being stuffy or preachy or even overly serious while talking about a subject that's very serious for a lot of people. With all that said by the time I got to the 40th tip I felt that the book was much too long, that some of the tips were essentially the same and could have been combined without doing the book any harm. I even went through the chapter titles trying to remember which stories went with them and found that a few were interchangeable. This is a decent read, especially if you want a fresh shot of motivation or to switch gears. It is also a great reminder that not every creative endeavor needs to rival the work of Beethoven, Da Vinci, Rowling or Jobs, it simply has to be yours.