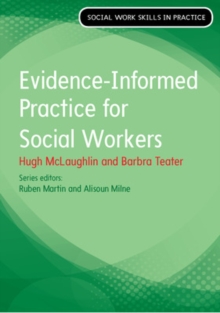 Evidence Informed Practice for Social Work
Paperback / softback
Description
Hugh McLaughlin is Professor of Social Work and Head of Faculty Research Degrees at Manchester Metropolitan University, UK.
He has written and edited a range of books on social work practice and research. Barbra Teater taught on Social Work courses at the University of Bath and University of Bristol, UK, before assuming her current position as Professor of Social Work, MSW Program Director at the College of Staten Island, City University of New York, USA.
She is the bestselling author of An Introduction to Social Work Theories and Practice 2nd edition (2014) and Contemporary Social Work Practice (2014). Providing a user-friendly introduction to Social Work research, this textbook will demystify the most important concepts and show why it is important to embrace evidence-informed practice (EIP).
In the face of complex and demanding work, it is crucial not to focus solely on the concept of evidence-based practice but to make use of all the evidence at your disposal and allow this evidence to inform your decisions.
This book champions the integration of service user and carer knowledge, along with practitioners' wisdom and the best research evidence to make a difference for service users. Containing helpful examples of how to apply EIP to practice encounters, as well as a range of further reading and activities to help you to critically reflect on your experience, this book explores how EIP can be used to enhance your effectiveness as a Social Work practitioner, professional and social scientist. Chapters in this textbook explore themes and skills you will need to consider and develop in your practice, including:* Identifying, assessing, and critiquing difference types of 'evidence' * Understanding what constitutes research knowledge* Ethical issues in practice and research* Implementation of evidence-informed practice and evaluating your practice* Interprofessional practice and creating evidence-informed culturesWritten by experts in the field, this text is essential reading for all Social Work students and qualified practitioners. ***This book forms part of the Social Work Skills in Practice series.
The series focuses on key social work skills required for working with children and adult service users, families and carers.
The books offer both theoretical and evidence-informed knowledge, alongside the application of skills relevant for day-to-day social work practice. They are an invaluable resource for pre-qualifying students, newly-qualified social workers, academics teaching and researching in the field, as well as social work practitioners, including practice educators, pursuing continuous professional development. ***'This book is an excellent introduction to the subject for social work students and social workers.
It sets out in a very accessible style the ways in which social workers can develop understanding of key features of, and practical ways to make use of, Evidence-Informed Practice, within a real appreciation of the social work role and its values.
I would advise all social work students and social workers to read it.'Professor Brian Littlechild PhD, Research Lead, Department of Nursing and Social Work, University of Hertfordshire, UK
Information
Format: Paperback / softback
Publisher: Open University Press
Publication Date: 16/11/2017
Category: Society & culture: general
ISBN: 9780335226948
Free Home Delivery
on all orders
Pick up orders
from local bookshops