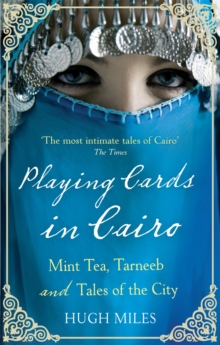 Playing Cards In Cairo : Mint Tea, Tarneeb and Tales of the City
Paperback
Description
PLAYING CARDS IN CAIRO is a fly-on-the-wall account - like THE BOOKSELLER OF KABUL - of life (for western readers) in a strange and exotic environment.
Hugh Miles lives in Cairo and is engaged to an Egyptian woman.
Twice a week he plays cards with a small group of Arab, Muslim women and through this medium he explores their lives in modern Cairo, the greatest of Arab cities.
It is a secretive, romantic, often deprived but always soulful existence for the women as they struggle with abusive husbands and philandering boyfriends.
The book is a window onto a city - and a way of life - which is at a crucial juncture in its history.
Hugh Miles, who knows the Arab world intimately, is the perfect guide.
Information
Format: Paperback
Pages: 288 pages
Publisher: Little, Brown Book Group
Publication Date: 01/02/2011
Category: Social & cultural history
ISBN: 9780349119809
Free Home Delivery
on all orders
Pick up orders
from local bookshops
Reviews
Showing 1 - 1 of 1 reviews.
Review by lizw9
16/06/2015
Playing cards in Cairo by British author Hugh Miles is the perfect companion to understanding the January 25th Egyptian revolution and the people who sparked it. The recent edition was released in Canada by Abacus on February 11th, the very same day Hosni Mubarak stepped down as president.Even though I lived in Cairo when I worked there as a librarian in 2003-2004, I was only able to skim the surface of this complex culture. Miles, on the other hand, offers us an up-close-and-personal portrait of the politics, beliefs, values and daily concerns and experiences of Egyptians from the women's point of view.Working as a young freelance journalist in the Arab world's largest and most vibrant city, Miles lives the good life as a British expat, mingling with an international community of aid workers, teachers, lawyers, and diplomats in Cairo's many bars and restaurants along the banks of the great river Nile.Shortly before he is to return to London, Miles attends an American friend's farewell party, where he meets Roda, a beautiful and intelligent Egyptian doctor. Miles is besotted. Back in rainy London he can't stop thinking about her, so he concocts a reason to go back to Cairo.Unable to date the woman of his dreams in the way a westerner is accustomed, Miles hits a brick wall. It is Roda who finds a solution to their cross-cultural dating dilemma: Miles will be her partner in the Egyptian card game of Tarneeb. Thus begins for Miles an adventure into the exotic world of middle class Cairene women. As a speaker of Arabic, he is the proverbial fly on the wall, privy to the women's most intimate conversations on topics as varied as religion, dating, hymen replacement surgery, hair removal, divorce, superstition, sexual harassment, drugs and alcoholism, desert raves, Arabic pop music, family honour, unemployment, Egyptian prisons, Western misconceptions about suicide bombers and terrorists, and more.Roda and her circle of friends form a colourful cast of characters: Nadia, a doctor, deals with abuse at the hands of her husband; Yosra, whose younger brother controls every aspect of her life, searches desperately for a decent man while battling depression and her addiction to prescription drugs; Reem is on the run from her Coptic Christian fiancé's friends intent on killing her for being a Muslim; Amira conceals her secret urfi marriage from her family while working for a clothing store with an Islamic vision of retail. And then there is Dwayne (real name Muhammad), the hashish-smoking slacker and honorary member of the group who accepts a job in war-torn Baghdad so he can make enough money to convince his beloved's father that he is worthy of her. Miles, who also authored Al Jazeera: How Arab TV news challenged the world, has a unique understanding of Egyptian and Arab politics and society. Early on in Playing cards in Cairo, he ponders what it would take to kick start a revolution in Egypt. As if divining the not-too-distant future, he muses (in the 2008 edition): "History has shown that when sudden change comes it often arrives in disguise and often small, apparently unconnected events can start a domino effect that no one can control." The first Palestinian intifada was triggered by a car accident, he writes, while the Iranian revolution started with a cinema fire. "I imagined how if a revolution were to take place, most likely an unexpected cause and an unknown leader would spark it."Commenting on indoctrination and the Egyptian tendency to buy into conspiracy theories, Miles quotes Yosra. "Most people say [the London bombings of July 2005] never happened. It was just a trick by Tony Blair to make an excuse to declare war on Muslims." Reflecting on this, Miles writes: "Conspiracy theories are the bread and butter of the Arab world and you hear them everywhere you go. I had heard stories so outlandish I wondered how anyone could take them seriously, even for a second. I had lost count of the times people told me that no Jews died in the twin towers on 11 September because they had been warned in advance not to turn up for work that morning."Views like these are not surprising considering that Egyptian and Arab cultures are not big reading cultures. I learned this when I worked as a librarian negotiating sensitive censorship issues in both Egypt and Kuwait. As Miles notes, "In reality the few Egyptians who do read books usually choose ones they think are useful, which typically means either the Koran or a computer manual. The range of foreign books available in Arabic is pitiful and if the West ever wanted to make a sincere and significant different to the average Arab's world view a good way to start would be by mass-translating dozens of liberal classics into Arabic and distributing them as freely and as widely as the Koran."On the subject of the very public process of conversion to Islam, Miles writes humorously regarding his own apprehensions: "Suddenly a loud wailing sound filled the room. Thinking it must be a fire alarm I leapt out of my chair and prepared to evacuate the salon. Everyone in the room leapt up too, including the sheikh in his red fez. 'Let's go! he shouted.'Let's go!' echoed the aspiring converts jumping to their feet.'Prayer time!' boomed the sheikh, clapping his hands.'Prayers?' I exclaimed, turning to Hanafi, a wave of panic sweeping over me. 'I don't know how to pray', I whispered in terror. I can't go into the mosque with all those people.''Just do as I do,' said Hanafi. 'It's easy.' And the pair's bumbling continues from there. Roda and her middle class friends Miles writes about so sympathetically are the very same educated, frustrated and under-employed people who made the revolution in Tahrir Square happen. Still, given the events in Cairo this last International Women's Day when a protest by two hundred Egyptian women demanding equal rights turned violent, with men verbally abusing and shoving the demonstrators, yelling, "now is not the time", it is obvious that there is a lot of work yet to do before everyone in Egypt is equal.For anyone wanting to better understand the Egyptian uprising and to learn more about contemporary Egyptian society, Playing cards in Cairo provides an excellent backdrop. The author's clear, lively prose interspersed with insightful sociopolitical analyses and anecdotes by turns tear-jerkingly sad, infuriating and loud-out-loud funny make for an enlightening and entertaining read.
Also by Hugh Miles