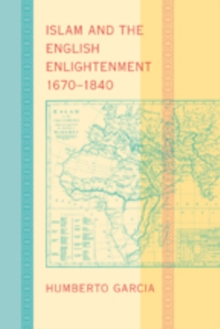 Islam and the English Enlightenment, 1670-1840
Hardback
Description
A corrective addendum to Edward Said's Orientalism, this book examines how sympathetic representations of Islam contributed significantly to Protestant Britain's national and imperial identity in the eighteenth century. Taking a historical view, Humberto Garcia combines a rereading of eighteenth-century and Romantic-era British literature with original research on Anglo-Islamic relations.
He finds that far from being considered foreign by the era's thinkers, Islamic republicanism played a defining role in Radical Enlightenment debates, most significantly during the Glorious Revolution, French Revolution, and other moments of acute constitutional crisis, as well as in national and political debates about England and its overseas empire.
Garcia shows that writers such as Edmund Burke, Lady Mary Wortley Montagu, Samuel Taylor Coleridge, Robert Southey, and Percy and Mary Shelley not only were influenced by international events in the Muslim world but also saw in that world and its history a viable path to interrogate, contest, and redefine British concepts of liberty. This deft exploration of the forgotten moment in early modern history when intercultural exchange between the Muslim world and Christian West was common resituates English literary and intellectual history in the wider context of the global eighteenth century.
The direct challenge it poses to the idea of an exclusionary Judeo-Christian Enlightenment serves as an important revision to post-9/11 narratives about a historical clash between Western democratic values and Islam.
Information
Format: Hardback
Pages: 368 pages, 5 Illustrations, black and white
Publisher: Johns Hopkins University Press
Publication Date: 30/01/2012
Category: Literary studies: c 1500 to c 1800
ISBN: 9781421403533