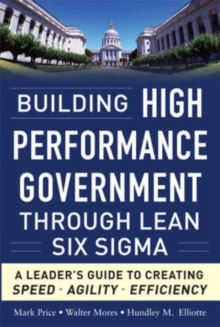 Building High Performance Government Through Lean Six Sigma: A Leader's Guide to Creating Speed, Agility, and Efficiency
Hardback
Description
Private Sector Strategies for Public Service LeadersNo corner of the government or public sector has been spared from budget turmoil in recent years. Among budget cuts, increased requirements, and new threats and challenges, governments typically balance the scales through (1) increased funding and/ or (2) rationalizing services or service levels. This book gives you a third option. It's called high performance, and it's been implemented in the private sector-with great success-for more than two decades.
This hands-on guide, written by the global consultants from Accenture, shows you how to apply these business principles in any public organization.
Learn how to:Improve the outcomes you deliver- while lowering the cost to deliver them.Streamline your operations-by increasing speed, agility, and efficiency.Build a high-performance "anatomy" to strengthen your organization.Manage assets, decrease risks and losses, and deliver true excellence. Featuring case studies from the public sector, including federal, state, local, agencies, bureaus, and departments, this unique guide takes you inside government organizations, where high performance "anatomy" is already making a difference.
You'll discover low-cost techniques deployed by the Naval Air Systems Command and the IRS, as well as high-performance solutions for problems as diverse as homeland security, disaster response, health care costs, and dwindling resources.
High Performance Government provides a proven method for adapting to the "New Normal" of lower budgets by showing you how to do even more with even less-creating a learning, working environment that reacts to change.
This is how the top companies in the world increase productivity and profits through any market conditions. From Wall Street to Washington and Main Street, real success is driven by execution excellence.
This book gives you the solutions you need to lower cost and create a leaner more efficient organization. Praise for Building High Performance Government"Building High Performance Government is a fast read with a big message.
It explains how the inevitable downsizing of governments at all levels-federal, state, local-doesn't have to also mean fewer or lower-quality services.
This book highlights viable strategies already in use today to create better alignment and greater productivity in government."-Graham Richards, Former Mayor of Fort Wayne, Indiana"Every level of government is experiencing a budget crunch these days, and that always results in slashing services.
This book can help public sector leaders find another option-how to deliver on their core mission at a much lower cost."-Sean O'Keefe, CEO , EADS North America, former Administrator of NASA, former Secretary of the Navy and former chancellor of Louisiana State University (LSU)"A solid read for federal, state, and local government leaders wondering how to `do more, without more.' Building High Performance Government focuses on the main things that leaders can do to help their organization get more out of each tax dollar while also improving quality and speed-an absolutely essential requirement in today's fiscally constrained environment."-David Melcher, Senior Vice President, ITT Corporation; President, ITT Defense & Information Solutions, US Army Lieut enant General (Ret.) formerly the Army's Military Deputy for Budget and Deputy Chief of Staff for Programs in the Pentagon
Information
Format: Hardback
Pages: 192 pages
Publisher: McGraw-Hill Education - Europe
Publication Date: 13/05/2011
Category: Business & management
ISBN: 9780071765718
Free Home Delivery
on all orders
Pick up orders
from local bookshops
Also by Hundley M. Elliotte