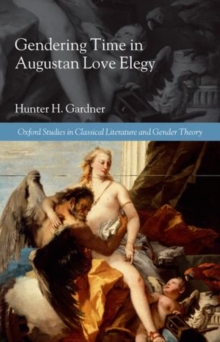 Gendering Time in Augustan Love Elegy
Hardback
Description
Gendering Time in Augustan Love Elegy examines how and why time appears to affect men and women differently in Latin love elegy.
Considering the genre's brief flowering during the Augustan Principate, it aims to situate the elegies of Propertius, Tibullus, and Ovid in their social and political milieu.
The volume argues that the imperatives of the new regime, which encouraged a younger generation of loyalists to participate in the machinery of government,placed temporal pressures on the elite male that shaped the amator's (poet-lover's) resistance to enter a course of civil service and prompted his withdrawal into the arms of a courtesan, and therefore unmarriageable, beloved. In the second part of the volume Gardner focuses on the divergent temporal experiences of the amator and his beloved courtesan-puella (girl) through the lens of 'women's time' (le temps des femmes) and the chora, as theorized by psycholinguist Julia Kristeva. Kristeva's model of feminine subjectivity, defined by repetition, cyclicality, and eternity, allows us to understand how the beloved's marginalization from the realm of historical time provesadvantageous to her amator, wishing to defer his entrance into civic life.
The antithesis between the properties of 'women's time' and the linear momentum that defines masculine subjectivity, moreover, demonstrates how 'women's time' ultimately thwarts the amator's often promised generic evolution.
Information
Format: Hardback
Pages: 296 pages
Publisher: Oxford University Press
Publication Date: 03/01/2013
ISBN: 9780199652396
Free Home Delivery
on all orders
Pick up orders
from local bookshops
Also in the Oxford Studies in Classical Literature and Gender Theory series | View all