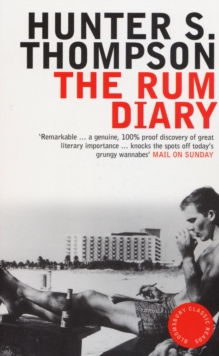 Description
Paul Kemp has moved from New York to the steamy heat of Puerto Rico to work at the Daily News.
He starts hanging out at Al's Backyard, a local den selling booze and hamburgers to vagrant journalists who are mostly crazy drunks on the verge of quitting.
Then he meets Yeamon, whose delectable girlfriend has Kemp stewing in his own lust.
But the idle tension that builds up in places where men sweat twenty-four hours a day is reaching a violent breaking point.
Information
Format: Paperback
Pages: 224 pages, maps
Publisher: Bloomsbury Publishing PLC
Publication Date: 05/07/2004
ISBN: 9780747574576
Other Formats
eAudiobook MP3 from £8.36
Free Home Delivery
on all orders
Pick up orders
from local bookshops
Reviews
Showing 1 - 3 of 3 reviews.
Review by soylentgreen23
16/06/2015
A far more accessible piece of writing than "Fear and Loathing in Las Vegas;" I'm not sure which I prefer - Thompson as he is here, human and frail and in love in a foreign and exotic country, or Thompson when he's so far gone on drugs that it feels like I'm trapped with his characters in some sci-fi alternate reality.
Review by andy475uk
16/06/2015
Quite a culture shock reading this book and very difficult to review and tag it as it doesn't really fit into any particular category. Not as funny as the later seminal "Fear and Loathing" but you do get some occasional low-life laughs along the way as a newspaper writer has various experiences during his time on a Puerto Rico newspaper. A book that makes you want to take a shower after reading it and then drink a glass of rum.
Review by edwinbcn
16/06/2015
The life of Hunter S. Thompson largely plays out "on the wild side". Still, while classified as belonging to 1960s counter-culture, his work is not affiliated to the Beat Generation. Thompson's life is quite remarkable, and from its earliest days showed a fascination with the underground, not just literary, but gearing towards the criminal and rough underbelly of society. Still, Thompson was apparently able to channel his energy into a literary production, which has unique features, sparking a genre of itself, and producing very readable works of fiction. Perhaps most well-known for Hell's Angels, Thompson lived and rode with the Hells Angels for a year, as a kind of "participating observation" before publishing his book on the notorious motor club. Disappointingly, Hell's Angels reads more like a journalistic compilation of newspaper clippings than a semi-autobiographical work, possibly to avoid conflict with the Angel's chapter he had been part of. Hell's Angels: The Strange and Terrible Saga of the Outlaw Motorcycle Gangs was Thompson's first book to be published, but it was preceded by two novels, Prince Jellyfish, as yet unpublished, and The rum diary, which was begun in 1958, and finished around 1960, but remained unpublished until 1998.The novel is a fairly joyful story on a sunny island, of a young journalist who discovers how to make a living off writing for a small, local newspaper. The story is set in Puerto Rico, and American colony, which, in the 1950s appears as a relatively lawless, freehaven for adventurous expats. The rum diary is a racy novel, and a very quick read. It tells the story of Paul Kemp, a young journalist, who arrives on the island, lands himself a job as a journalist and starts hanging out with the other editors. Not much happens, but Kemp is quickly able to make some money and earn some respectability, renting a better place, and buying a car. However, hanging out with the clique of editors, and their boozing habits does land them into trouble over a small thing that spins incredibly out of control. Towards the end of the novel, Kemp' relatively simple existence on the island end up in an imbroglio of violence, adultery and alcoholism, from which he can barely escape, getting off the island.The rum diary is an interesting novel about the struggling early years of a writer, in a somewhat seedy expat environment. The novel has little pretense, and is not much connected with any literary movement of the time. It can be read as a light entertainment.