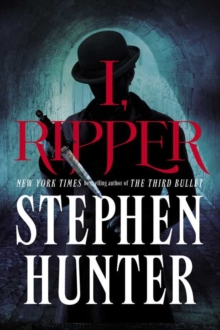 I, Ripper : A Novel
Hardback
Description
In the fall of 1888, Jack the Ripper slaughtered five prostitutes in London's seamy Whitechapel District.
He did not just kill-he ripped with a butcher's glee-and then, after the particularly gruesome slaying of Mary Jane Kelly, he disappeared.
For 127 years, Jack has haunted the dark corners of our imagination, the paradigm of the psychotic killer.
We remember him not only for his crimes, but because, despite one of the biggest dragnets in London history, he was never caught.
I, Ripperis a vivid reimagining of Jack's personal story entwined with that of an Irish journalist who covered the case, knew the principals, charted the investigation, and at last, stymied, went off in a bold new direction.
These two men stalk each other through a city twisted in fear of the madman's blade, a cat-and-mouse game that brings to life the sounds and smells of the fleshpot tenderloin of Whitechapel and all the lurid acts that fuelled the Ripper headlines.
Dripping with intrigue, atmosphere, and diabolical twists, this is a magnificent psychological thriller from perennial New York Timesbestseller Stephen Hunter, who the San Francisco Examinercalls "one of the best storytellers of his generation."
Information
Format: Hardback
Pages: 320 pages
Publisher: Simon & Schuster
Publication Date: 19/05/2015
Category: Crime & mystery
ISBN: 9781476764856
Free Home Delivery
on all orders
Pick up orders
from local bookshops
Reviews
Showing 1 - 4 of 4 reviews.
Review by Stardust_Fiddle
23/09/2015
Approaching the nineteenth century's most infamous serial killer in a unique and disquieting manner, Stephen Hunter's "I, Ripper" pulls out all of the stops to create an incendiary tale of madness and mayhem. The story of those fatal 1888 months comes primarily from two perspectives: that of Jack the Ripper himself and that of a budding Irish journalist who becomes entwined in the killings. Both narrate in the first-person, Jack in diary entries as the events unfold and the journalist after twenty-four years have passed. Occasionally interjected between the two are letters from a prostitute named Mairsian. What results is an unsettling glimpse into London's underworld and the various possibilities regarding how and why the murders unfolded.Hunter craftily utilizes dualism to achieve what Saucy Jack's motivations and thought processes may have been as well as how the killings were perceived and even exploited by the news reporters of the day. As a result, this psychological thriller tends to be graphic and at times crude, particularly concerning Jack's epistolary narrative, but the distinctive viewpoints also serve to shed fresh light on the details of the case, one that continues to shock and intrigue over a century later. And just like the events themselves, "I, Ripper" contains shocking twists and unsettling theories.I received a complimentary copy of this novel from The Reading Room in exchange for an honest review.
Review by ChristineEllei
27/08/2015
** I received this in a Goodreads "First Reads" giveaway **<br/><br/>JEB<br/>Jeb is a young newspaperman working for the Star, an afternoon newspaper fighting for readers and their pennies among the more than fifty newspapers coming off the presses and then hawked by the newsboys of London in the late 1800's. He starts his career as "the intermittent substitute music critic" but when Harry Dam, the night crimes reporter, is not available one night Jeb is sent to cover "a nice juicy murder" that has just taken place in Whitechapel. This is the break that Jeb has been waiting for. Jeb had no way of knowing he was about to be introduced to the work of "Jack the Ripper". As it turns out Jeb is very good at his job (and apparently has a very strong stomach) so soon earns the respect not only of the reporters from other papers but of the "Blue Bottles" (police) as well. They allow him up close and personal access to the carnage The Ripper leaves behind. This is 1888 and forensics are unheard of, the head of the police department is a laughing stock, yellow crime scene tape does not exist and Jeb is in his element.<br/><br/>Before long he is beginning to form his own theories and suspicions about "Saucy Jack". Although an adamant tee-tote he aggrees to attend a party one evening where he happens to meet Thomas Dare a linguistics professor at a prestigious university. Not being an abstainer, when he is in his cups Professor Dare enjoys bragging about his linguistic knowledge and how is able to see "the beneath" in writing. When a letter arrives at the newspaper allegedly penned by Jack himself and then a sign written in blood is left to taunt the police Professor Dare is convinced he can help Jeb discover the killer's identity through linguistics. Jeb has first hand knowledge of the crime scenes and Dare has the resources and patience to put the clues together. Between the two of them (ala Sherlock Holmes … Jeb's literary hero) they develop the first "profile" of a killer and then set out to trap him.<br/><br/>As any good newspaperman should, Jeb tells a good portion of this story as his first person, eyewitness account. Then, as now, the media is quick to come up with catchphrase names for serial killers and Jeb takes the credit for naming Jack the Ripper, rightly so because Jeb is also a nickname – he has a secret identity of his own. <br/><br/>JACK<br/>The rest of the account of that bloody "autumn of the knife" we hear from Jack himself. Jack keeps a journal where he writes out the meticulous planning and thought that goes into each of his kills before he carries them out. Then when the evil deed is accomplished he comes back and records exactly what happened. Being privy to a serial killers journal is gory reading, and Jack holds nothing back. He gleefully recounts every detail and takes a great amount of pleasure in the fact that he has bested the local police and stymied "the Yard". Of course Jack never signs his journal entries.<br/><br/>MAIRSIAN<br/>Mairsian is one of the fallen angels walking the streets of Whitechapel. Like so many of her fellow ladies of the evening she has an unfortunate liking for gin. Unlike some of the other ladies Mairsian has a home, parents and family. From her ramshackle room she pens letters to her mum assuring her that she is being careful and not be worried. She only "entertains" gentlemen now and has a guardian angel in the form of a nice man who doesn't beat her to shove her about. She promises to be home as soon as she can lose her taste for the gin so her parents can be proud of her again. <br/><br/>Mairsian's letters to her mum are interspersed between Jeb's account and Jack's diary giving an insight into what the ladies of Whitechapel were thinking while Jack was on the loose.<br/><br/>"Saucy Jack", "Leather Apron", "The Whitechapel Killer" and "Jack the Ripper" – nicknames all – because his true identity is still unknown, 127 years after his killing spree. Countless books, both fiction and non-fiction have been written about Jack the Ripper. Add television programs and movies into that mix and you would be hard pressed to find someone not familiar with Jack the Ripper. I have read a handful of books about the subject myself and in my opinion Mr. Hunter holds his own. He does not profess (as some other authors have) to solve the mystery, but appropriately he does give us his culprit in the end. There is no doubt that this book is meticulously researched, Mr. Hunter incorporates not only accurate accounts of the killings he also draws a clear picture of the social values of the time, the poverty, filth, overcrowding and danger of the area and how the Ripper case added to the anti-Semitism rampant at the time. This is excellent historical fiction written in the era's manner of speech and peppered with colorful cockney phrases. While reading it amused me to catch certain references to modern day police procedures and newspaper terms, which the characters in the book claim to "invent" (like the profiling) or wish such a thing existed so they could somehow have at their disposal. It made me smile and that's a good thing when I'm reading about Jack. <br/><br/>Because I received an Advance reader Copy I cannot quote from the book's text but there is a note from Mr. Hunter on the back of the book in which he writes "I hope you find it a blazing fast hansom ride through the gritty, sensual, blood spattered streets of London's Whitechapel in the autumn of the knife … with the devil himself as your driver." It was a bloody good ride.<br/><br/>
Review by jmoncton
27/08/2015
Everyone knows the name Jack the Ripper, and we all know that he murdered poor London prostitutes and was never caught, but what we don't know is what type of person he was, Was he upper class? What made him kill all those women? How did he escape and what happened to him? Stephen Hunter takes us to the dank and foggy streets of Whitechapel where we follow a reporter in search of the story of the day. Through his eyes, we feel the excitement of the chase and the fear that something wild and menacing is threatening the city. In alternating chapters, Hunter then puts us into the mind of Jack the Ripper and we see both sides of a very tense cat and mouse game. Excellent story!
Review by jenzbaker
10/11/2015
Have we had enough Jack the Ripper? Good enough, creepy. Reviewed for Booklist.