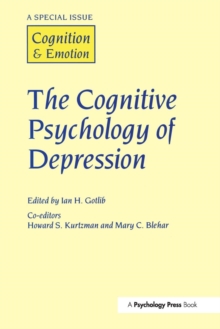 The Cognitive Psychology of Depression : A Special Issue of Cognition and Emotion
Paperback / softback
Description
Of all the psychiatric disorders, depression is by far the most common, affecting between 8 and 18 percent of the general population at some point in their lives.
Although the heterogeneity of the affective disorders makes it unlikely that a single set of factors can adequately explain the full range of phenomena associated with depression, there has been a swell of research over the past two decades designed to examine cognitive factors in the etiology, maintenance, and treatment of this disorder.
Whereas early work in this area tended to examine responses of depressed persons to questionnaires assessing cognitions, more recent research has drawn both theoretically and methodologically from experimental cognitive psychology, including work in information processing, social cognition, and cognitive neuropsychology.
In an effort to examine the current state of research and theory in this area, the National Institute of Mental Health held a workshop on "The Cognitive Psychology of Depression" - this special issue is a result of that workshop.
The papers represent a wide range of approaches to examining the relation between cognition and depression, and include studies assessing attention, memory, and schematic processing of both self-referential and neutral information, as well as examinations of transient mood effects and underlying brain activity.
Moreover, the papers cover a diverse set of samples (including children and young and middle-aged adults, and unipolar depressed, bipolar depressed, and formerly depressed individuals) and encompass a range of severity of depressive symptoms.
Finally, a closing commentary identifies and discusses issues raised by this group of papers, and offers suggestions concerning fruitful directions for future research in the study of cognition and depression.
Information
Format: Paperback / softback
Pages: 186 pages
Publisher: Taylor & Francis Ltd
Publication Date: 17/01/2019
Category: Cognitivism, cognitive theory
ISBN: 9781138877337
Free Home Delivery
on all orders
Pick up orders
from local bookshops