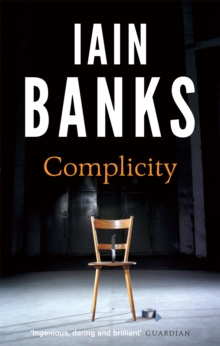 Description
COMPLICITYn. 1. the fact of being an accomplice, esp. in a criminal actA few spliffs, a spot of mild S&M, phone through the copy for tomorrow's front page, catch up with the latest from your mystery source - could be big, could be very big - in fact, just a regular day at the office for free-wheeling, substance-abusing Cameron Colley, a fully paid-up Gonzo hack on an Edinburgh newspaper.The source is pretty thin, but Cameron senses a scoop and checks out a series of bizarre deaths from a few years ago - only to find that the police are checking out a series of bizarre deaths that are happening right now. And Cameron just might know more about it than he'd care to admit ...Involvement; connection; liability - Complicity is a stunting exploration of the morality of greed, corruption and violence, venturing fearlessly into the darker recesses of human purpose.
Information
Format: Paperback
Pages: 320 pages
Publisher: Little, Brown Book Group
Publication Date: 01/02/2013
ISBN: 9780349139135
Free Home Delivery
on all orders
Pick up orders
from local bookshops
Reviews
Showing 1 - 1 of 1 reviews.
Review by macha
16/06/2015
3 and a half stars. the most interesting thing about this early work, basically a suspense novel though not billed as one, is the evolution in the reader's view of the narrator. at first he seems to epitomize all the excess of the Thatcher era, but very gradually he reveals himself (to himself as much as anyone) as consistently in opposition to its tenets. it's a point of view he's always expressed but never really thought about before in relation to his own life. so gradually he knows himself as complicit in the society around him, on so many levels. and after a while he is also being hunted by the authorities, for a series of brutal murders which express a rejection of the society around him - being framed by someone who sees him on a personal level as complicit in that society. so he has to think it through: his own relationships, his own actions throughout life, in order to figure out who's doing the framing. and even after he gets it, there remains the problem of what to do about his tormentor: whether to turn him in or to be, on a whole different level, complicit. the writing - and the premise - seems a bit heavy-handed in places, especially at the point where the political meets the personal. but it is still an interesting concept, a scathing portrait in miniature of a society dedicated to greed and power, and an interesting read.