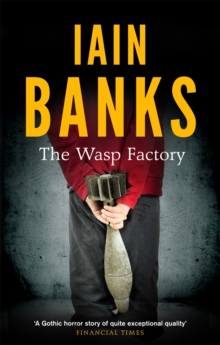 The Wasp Factory
Paperback
Description
'Two years after I killed Blyth I murdered my young brother Paul, for quite different reasons than I'd disposed of Blyth, and then a year after that I did for my young cousin Esmerelda, more or less on a whim.
That's my score to date. Three. I haven't killed anybody for years, and don't intend to ever again.
It was just a stage I was going through.' Enter - if you can bear it - the extraordinary private world of Frank, just sixteen, and unconventional, to say the least.
Information
Format: Paperback
Pages: 256 pages
Publisher: Little, Brown Book Group
Publication Date: 27/06/2013
ISBN: 9780349139180
Free Home Delivery
on all orders
Pick up orders
from local bookshops
Reviews
Showing 1 - 1 of 1 reviews.
Review by ahef1963
16/06/2015
Iain Banks' 'The Wasp Factory' is one of the most disturbing books I've ever read. I do not know whether or not I liked it, but I do admit that it was brilliantly written and unlike anything I have ever before seen, read, or imagined. Frank is in his late teens, living on a Scottish island in the North Sea, alone with his father, who is a reclusive fellow and seems almost entirely disinterested in his child. Frank has two brothers, one of whom he has murdered, and one of whom is a recent escapee from an asylum for the criminally insane. Frank himself is not sane, although he seems not to realize this. He is three times a murderer, tortures small animals for his pleasure, and performs bizarre ritualistic rites. The story tells of Frank's past, and Frank's present day concern of his brother's escape, and the likelihood that he is headed back towards the island where Frank lives. The book ends violently, with a shocking denoument, and leaves me full of questions, and even more full of fear. The story is masterful, the events almost unimaginable in their awful fascination, the grim descriptions captivating and nightmaresque. A strong stomach is necessary for this book, or at least the ability to distance oneself from the occurrences in it. I often wonder about people who can write stories so twisted and evil. Stephen King, Shirley Jackson, Neil Gaiman, and now Iain Banks, I have wondered about their mental states, about whether it requires insanity to create plots like these ones. I will never know, but I will always wonder, and I plan to read more by Iain Banks to discover whether the characters in his other novels are as crazed as they were in this one. I'm glad I've read The Wasp Factory. However, as much as it was excellent, there is a part of me that is very glad that the book is over, and I can return to a safer world where Frank does not exist.