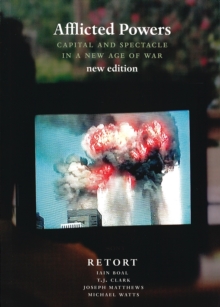 Afflicted Powers : Capital and Spectacle in a New Age of War
Paperback / softback
Description
Afflicted Powers is an account of world politics since September 11, 2001.
It aims to confront the perplexing doubleness of the present...its lethal mixture of atavism and new-fangledness.
A brute return of the past calling to mind now the Scramble for Africa, now the Wars of Religion, is accompanied by an equally monstrous political deployment of (and entrapment in) the apparatus of a hyper-modern production of appearances.
Capital is attempting, nakedly, a new round of primitive accumulation.
But never before has imperialism, and its dominant world power, been subject to real catastrophe in the realm of the spectacle.
The present turn to empire is confronted by a variety of movements, including a new kind of vanguard whose weapons include the tool kit of spectacular politics.
This book attempts to rethink the current global struggle, and to provide some critical support for present and future oppositions.
Its main themes are the spectacle and September 11, blood for oil, permanent war and illusory peace, the US-Israel relationship, revolutionary Islam, and modernity and terror.
Information
Format: Paperback / softback
Pages: 224 pages, col. Illustrations
Publisher: Verso Books
Publication Date: 13/06/2005
Category: International relations
ISBN: 9781844670314