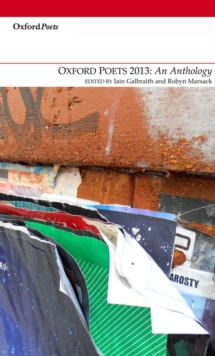 Oxford Poets: An Anthology: 2013
Paperback / softback
Description
This anthology brings together the work of nineteen poets from a dozen different countries, with translations from at least seven languages, to provide a rich mix of contemporary voices.
Here you can move from the Australian desert to an English coal mine, from the interior world of Grace Darling to the mythic world of the Ramayana, from earthquakes in New Zealand to gardens in France.
A common thread is migration, in many senses; another is the beguilements and betrayals of memory.
The poets' own reflections on their writing provide insight into the cultural and personal contexts of work that expands the vocabulary of poetry in English. The Oxford Poets Anthology 2013 includes: Gregor Addison David Attwooll Emily Ballou Paul Batchelor Christy Ducker Lynn Jenner Riina Katajavuori David Krump Frances Leviston Peter Mackay Adam Nadasdy Andre Naffis-Sahely Vivek Narayanan Leonie Rushforth Kerrin P.
Sharpe Ian Stephen Toh Hsien Min Jan Wagner Karen McCarthy Woolf
Also by Iain Galbraith