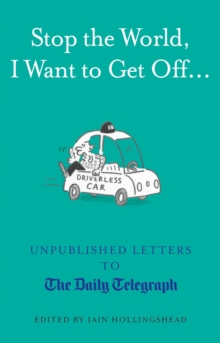 Stop the World, I Want to Get off... : Unpublished Letters to the Telegraph
Hardback
Description
Readers of the Daily Telegraph will be fondly aware of the combination of wistful nostalgia, robust no-nonsense good sense and appalled outrage that characterises its " brilliant" (Ian Hislop) Letters page, which if it did not exist would have to be invented.
But what of all the letters that were just slightly too wacky, too off the wall, too politically incorrect, to make it for publication?
Now the Telegraph gives their authors the stage at last: baffled, furious, occasionally paranoid, and from this hilarious selection of the best we can see that no, none them is alone...
Free Home Delivery
on all orders
Pick up orders
from local bookshops