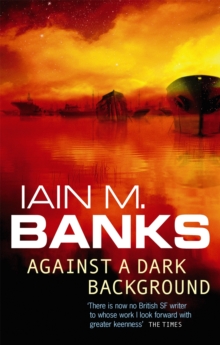 Against A Dark Background
Paperback / softback
Description
A superb standalone novel from the awesome imagination of Iain M.
Banks, a master of modern science fiction. Sharrow was once the leader of a personality-attuned combat team in one of the sporadic little commercial wars in the civilisation based around the planet Golter.
Now she is hunted by the Huhsz, a religious cult which believes that she is the last obstacle before the faith's apotheosis, and her only hope of escape is to find the last of the apocalyptically powerful Lazy Guns before the Huhsz find her. Her journey through the exotic Golterian system is a destructive and savage odyssey into her past, and that of her family and of the system itself. Praise for Iain M. Banks:'Epic in scope, ambitious in its ideas and absorbing in its execution' Independent on Sunday'Banks has created one of the most enduring and endearing visions of the future' Guardian'Jam-packed with extraordinary invention' Scotsman'Compulsive reading' Sunday Telegraph The Culture series:Consider PhlebasThe Player of GamesUse of WeaponsThe State of the ArtExcessionInversionsLook to WindwardMatterSurface DetailThe Hydrogen SonataOther books by Iain M.
Banks:Against a Dark BackgroundFeersum EndjinnThe Algebraist
Information
Format:Paperback / softback
Pages:496 pages
Publisher:Little, Brown Book Group
Publication Date:05/01/1995
Category:
ISBN:9781857231793