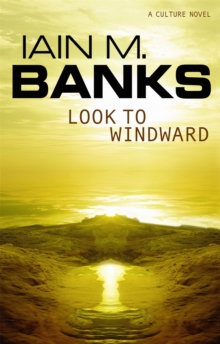 Look to Windward
Paperback
Description
It was one of the less glorious incidents of a long-ago war.
It led to the destruction of two suns and the billions of lives they supported.
Now, eight hundred years later, the light from the first of those ancient mistakes has reached the Culture Orbital, Masaq'.
The light from the second may not. 'Confirms Banks as the standard by which the rest of SF is judged' GUARDIAN 'In terms of sheer storytelling prowess and verve, Look to Windward is a work of genius' SFX 'A great book' NEW SCIENTIST
Information
Format: Paperback
Pages: 416 pages
Publisher: Little, Brown Book Group
Publication Date: 02/08/2001
Category: Science fiction
ISBN: 9781841490595
Free Home Delivery
on all orders
Pick up orders
from local bookshops
Reviews
Showing 1 - 5 of 5 reviews.
Review by isabelx
16/06/2015
The Chelgrians had partially Sublimed; about six per cent of their civilisation had quit the material universe within the course of a day. They were of all castes, they were of all varieties of religious belief from atheists to the devout of diverse cults, and they included in their number several of the sentient machines Chel had developed but never fully exploited. No discernible pattern in the partial Subilming Event could be determined.None of this was especially unusual in itself, though for any of them to have gone at all when the Chelgrians had only been in space for a few hundred years did seem - perversely - immature in the eyes of some. Wheat had been remarkable, even alarming, was that the sublimed had then maintained links with the majority part of their civilisation which had not moved on.Chegrian composer Ziller has been commissioned by the Masaq' Hub to write a symphony commemorating the death of two stars in the Idiran War eight centuries before, whose first performance will be timed to coincide with the light from the second of the stars going nova finally reaching Masaq' Orbital. Zillero has been living in exile on Masaq' Orbital since before the Chelgrian Caste War, which was ignited by Culture meddling leaving them feeling very guilty about what happened, but unrepentant about the need to meddle in other species' affairs. When Ziller hears that an emissary is being sent from Chel to ask him to come home, he refuses point blank to meet him, and that is about all I can tell you about the story without giving a big spoiler warning, so I'll just say that the story includes themes of guilt, bereavement, revenge, death and the afterlife, and leave it at that. Iain M. Banks does create some fantastic alien species. Apart from the furry, five-legged, predator-descended Chelgrians, "Look to Windward" features the incredibly long-lived behemothaurs, forever travelling around the edge of the galaxy in the mysterious air spheres lit by orbiting sun-moons. But the Affront in "Excession" are still my favourites.
Review by duhrer
16/06/2015
"Look to Windward" opens with the same T. S. Elliot quote as "Consider Phlebas", the first of Iain Banks' Culture novels, and the books in a sense are companion pieces. Where "Consider Phlebas" deals with the Idiran war, "Look to Windward" deals with the aftermath of both the Idiran war and the interference of the Culture in a civil war among the Chelgrians.Like his other Culture novels, "Look to Windward" has quite a few digressions, but in this case all of the subplots are more less recognizably in the service of the larger plot. As with his previous novels, there are rich descriptions of the natural and constructed environments, which as always are engrossing.What is singular and enjoyable about this novel, however, are the two central characters, one a Chelgrian, one a "Mind", an artificial intelligence centuries old. As in "Consider Phlebas", the Chelgrian character in part acts as a foil to help us understand the nuances of the Culture by comparison.I particularly liked the insight into the "Mind", whose perception of time and scope of focus are so far outside human experience that it can live a lifetime of our experiences in an instant and coordinate billions of decisions where we would be hard pressed to handle a handful.Banks is as always incredibly inventive. Each twist in the plot is an "a-ha moment", an expansion of our own imagination rather than the kind of contrivance that drives your average mystery (or CSI episode, for that matter).An entertaining read, particularly the last few chapters, in which all the loose ends are tied up. Although for the most part the right are redeemed and the wrong horribly punished, it never seems arbitrary, it always just <span style="font-style:italic;">fits</span>.A good book, and highly recommended, particularly for anyone who has enjoyed other Culture novels.
Review by DRFP
16/06/2015
After <i>Look To Windward </i> Banks took an eight year break from writing Culture novels. Given the low quality of this book it's tempting to say he simply ran out of interesting ideas for his space opera setting. This presumption is buttressed by the fact that <i>Inversions</i>, released two years prior to LTW, was a Culture novel <i>without</i> the Culture. Perhaps even then Banks was running out of ways to make the near omnipotent and omniscient Culture interesting?Regardless of whether or not this was the case LTW felt completely flat. The characters were lifeless and even the Minds, who usually get all the best lines, were fairly bland. The story never gripped either. Given the god-like abilities of the Minds I never believed the plot would be 100% successful despite explanations by the Chelgrians as to why the plan should, in theory, work. Plus, the chapters devoted to the mega-fauna were superfluous and full of the purple prose that littered this novel and bogged it down repeatedly. There are some nice bits within the story - the Chelgrian's afterlife and talk of Sublimed races, for instance - but it doesn't add up to much.There was simply a real lack of the zip and creativity that made novels like <i>Player of Games</i> and, to a slightly lesser extent, <i>Use of Weapons</i> such enjoyable books to read. I thought <i>Excession</i> was a let down too, so I hope Banks's return to the Culture in 2008, with <i>Matter</i>, refreshes the series and proves to be more successful (when I get around to reading it).
Review by jessicariddoch
16/06/2015
I have to appologise to those who like ian banks (you too sis) but I can find nothing to commend his work
Review by macha
16/06/2015
4 stars. the sf works of Iain Banks, mostly collected as a series about The Culture, are important for their ideas, their vision of what a non-dystopic far future might look like (should we survive so long), and the elegance and eloquence with which they are written. this one is an excellent general introduction to the Culture worldview, zeroing in on the balance necessary to cultivate and preserve civilization in a pluralistic culture composed of many different types of beings. some have evolved from predator races; some value everyone and everything from a dangerously narrow focus; some operate solely off logical rather than humanist processes. within this matrix, in which many lives are long and longer, and concepts of time are really only factors of distance, can diversity and creativity be maintained? is it possible to balance self-interest with the needs of the many? in the far-future Culture, though individuals are flawed and big solutions don't always work, it is, and Banks sets out to lay bare the mechanics of how this can be so, within a story of failed war, revenge, seduction, and (interestingly) creative composition. descriptions of place are exquisitely written, dialogue between wildly variant entities is sharp and fluid, chronology switches effortlessly between present and past, as the futures of some fascinating characters of ship AIs, autonomous machines, and sentients of many different races intertwine on contact, change and are changed. not the best of the series, and the ending's on the opaque side, but this one's accessible, and has a lot to say (and to debate), so not a bad place to start, though it's technically #7 in the series.