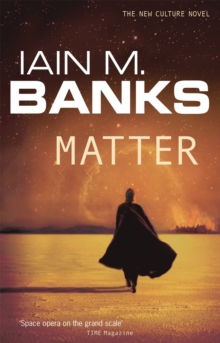 Description
In a world renowned within a galaxy full of wonders, a crime within a war.
For one man it means a desperate flight, and a search for the one - maybe two - people who could clear his name.
For his brother it means a life lived under constant threat of treachery and murder. And for their sister, it means returning to a place she'd thought abandoned forever. Only the sister is not what she once was; Djan Seriy Anaplian has become an agent of the Culture's Special Circumstances section, charged with high-level interference in civilisations throughout the greater galaxy. Concealing her new identity - and her particular set of abilities - might be a dangerous strategy.
In the world to which Anaplian returns, nothing is quite as it seems; and determining the appropriate level of interference in someone else's war is never a simple matter.
Information
Format: Paperback
Pages: 656 pages
Publisher: Little, Brown Book Group
Publication Date: 01/01/2009
Category: Science fiction
ISBN: 9781841494197
Free Home Delivery
on all orders
Pick up orders
from local bookshops
Reviews
Showing 1 - 5 of 5 reviews.
Review by JonArnold
16/06/2015
One of the bittersweet joys of a favourite author dying is the impulse to revisit them, to pay tribute by rediscovering what made them so special to you. Or even, if you'd lost touch with them a little, to fill in the holes in their work that you missed. I rediscovered the joys of Banks the winter before he died via a charity shop copy of Stonemouth and randomly picking up Transition, which had been sitting on my shelves for a couple of years. So I've since been on a random voyage through his back catalogue, to look for the spark plucking Use Of Weapons from a library gave me. It spoiled me a little; that it essentially ended in the middle of the story meant it deftly avoided what's usually been Banks' big weakness, that his books usually seem to stop rather than end.Being a Banks SF novel this is a book of bold ideas. The big one here is the Shellworld, a world comprised of different levels with different inhabitants on each level and God at its heart. The central story begins with a regicide and the plot strands revolve around the three surviving children of the king Orestin, the prince regent who gradually becomes aware of plots against him, Fermin, the heir to the throne who witnesses his father's death who goes offworld to seek help against the regicide tyl Loesp, and Djal, who's become a Culture Special Circumstances agent. For much of the novel it appears that this is of paramount concern to us, tyl Loesp's regicide and its consequences driving the actions of the main characters. This being a Culture novel though things aren't quite so simple – if nothing else we'd probably end up with a similar book to Inversions and Banks has never been interested in going over old ground. Instead the last quarter or so of the book reveals a SF Big Dumb Object (well, being a Culture novel a Big Intelligent Object) which puts everything into galactic perspective. We might wonder initially what's so important about a relatively primitive king on a backwater planet being overthrown . Banks, with his universe scaled sense of perspective, has us asking the wrong question. As Djal muses late on (she's given to didactic musing) she doesn't really matter on any grand scale. And this is where what appears to be a broken backed structure, where the last quarter of the book has entirely different concerns to the first three quarters, is actually clever. The people are mere ants. What at first appears world-consumingly important is actually insignificant in the face of world changing events. In that regard it's very much a novel of the first decade of the 21st century, echoing 9/11. Our small, petty concerns were put into perspective by the attacks on the World Trade Centre and the Pentagon. Banks ups the ante on that, putting events on one world into a galactic scale. The title can be seen as a question rather than a statement: how much do any of us really matter? We might not like the answer he gives us.
Review by pauliharman
16/06/2015
banks does sensawunda like no-one else I know. A war between primitive (by galactic standards) civilisations on two different levels of an onion-like Shellworld reveals an ancient sentient artefact buried for millennia. The caretakers of the world believe it is their ancestor. The Culture representatives are somewhat skeptical. A very human story set against a backdrop of enormous scale.
Review by psiloiordinary
16/06/2015
Another excellent Culture novel from Banks. An interesting theme of perspective echoed at various levels through the plot and characters. His usual dollop of hugely massive imagination still impresses.Ultimately he still manage to show good triumphing over evil, even if he keeps you guessing which is which until the very end.Great science fiction that makes you think.
Review by isabelx
16/06/2015
Ferbin looked around again. "How extraordinary," he breathed, then coughed."Extraordinarily boring, sir," Holse said, frowning at his piece of dried meat. "We've been sailing over this water for the past five long-days or so and while the prospect is most impressive at first and the air bracing, you'd be amazed how quickly the impressiveness and the bracingness become tedious when that's all there is to contemplate all day. Well, all there is to contemplate all day save for your good self, of course, sir, and frankly you were no circus of boundless fun in your sleeping state.This was the longest of the Culture books so far, and it really didn't need to be. Djan Seriy Anaplian's journey and that of Ferbin and Holse seemed to drag on forever, just as the flight across the Cumuloforms' level of Sursamen did for Holse. I thought that the three of them were never going to meet up and return to succour Oramen. When things finally came to a head, the story was over and done with way too quickly, and just came to a dead halt. and you could easily have missed the final chapter, lurking after the glossary.The process of more primitive cultures being mentored by ever more highly developed Involved species, is interesting, however. The Sarl and Deldeyn are not yet Involved species, being confined to one planet, while the Oct and the Aultridia are at the lower level of Involved species. Above them come the Nariscene and above them, at roughly the same level as the Culture, come the Morthanveld. The Shellwords are fascinating structures too, with their fourteen levels populated by different species, lit by rollstars and fixstars which divide time into long-days and short-days as well as long-years and short-years, not that I could visualise how it all worked, unfortunately. Although the Oct saw themselves as being descended from the long-dead makers of the Shellwords, I suspected that things would go wrong when they started to take an interest in the goings-on at the Falls, and go wrong they did!The Oct were also not slow in pointing out that they were, by their own claim at least, directly descended from the Involucra - the very people who had designed and constructed the deeply wonderful Shellworlds - and so part of a line of almost God-like creatures nearly a billion years old. By comparison, the Aultridia were ghastly parasitic newbie slime barely worthy of the term civilised.
Review by malcrf
16/06/2015
Mmmmmmmmm not his best. Grew on me, but took a long time to do so.