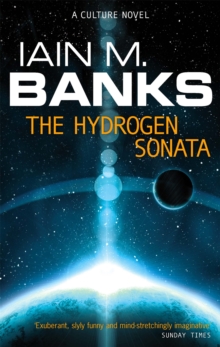 The Hydrogen Sonata
Paperback
Description
The Scavenger species are circling. It is, truly, the End Days for the Gzilt civilisation.An ancient people, organised on military principles and yet almost perversely peaceful, the Gzilt helped set up the Culture ten thousand years earlier and were very nearly one of its founding societies, deciding not to join only at the last moment.
Now they've made the collective decision to follow the well-trodden path of millions of other civilisations: they are going to Sublime, elevating themselves to a new and almost infinitely more rich and complex existence.Amid preparations though, the Regimental High Command is destroyed.
Lieutenant Commander (reserve) Vyr Cossont appears to have been involved, and she is now wanted - dead, not alive.
Aided only by an ancient, reconditioned android and a suspicious Culture avatar, Cossont must complete her last mission given to her by the High Command.
She must find the oldest person in the Culture, a man over nine thousand years old, who might have some idea what really happened all that time ago.
It seems that the final days of the Gzilt civilisation are likely to prove its most perilous.
Information
Format: Paperback
Pages: 640 pages
Publisher: Little, Brown Book Group
Publication Date: 10/09/2013
Category: Science fiction
ISBN: 9780356501499
Free Home Delivery
on all orders
Pick up orders
from local bookshops
Reviews
Showing 1 - 2 of 2 reviews.
Review by aadyer
16/06/2015
A very good, if at times, melancholy, swan song for a modern SF master. Overly long, & in need of severe editing & pacing in the middle third, it remains readable throughout. An elegant premise, with much in the way of satirical comparisons to the modern world, it concerns a young aliens journey into looking into the foundation of the Culture, & the difficulties of a civilisation about to Sublime. Worthy of a look for Culture fans, & certainly that for SF fans. Not his best, but far, far from his worst. Goodbye, Mr Banks, it's been good.
Review by malcrf
27/08/2015
Excellent Banks, one of his best........................................excellent characterisation, compelling prose, wide-ranging story-line and impressive Tech.......................what more could you want from a Space Opera?!