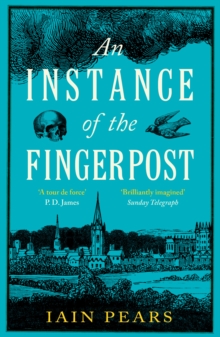 An Instance of the Fingerpost
Paperback
Description
Set in Oxford in the 1660s - a time and place of great intellectual, religious, scientific and political ferment - this remarkable novel centres around a young woman, Sarah Blundy, who stands accused of the murder of Robert Grove, a fellow of New College.
Four witnesses describe the events surrounding his death: Marco da Cola, a Venetian Catholic intent on claiming credit for the invention of blood transfusion; Jack Prescott, the son of a supposed traitor to the Royalist cause, determined to vindicate his father; John Wallis, chief cryptographer to both Cromwell and Charles II, a mathematician, theologian and master spy; and Anthony Wood, the famous Oxford antiquary.
Each one tells their version of what happened but only one reveals the extraordinary truth.
Brilliantly written, utterly convincing, gripping from the first page to the last, An Instance of the Fingerpost is a magnificent tour de force.
Information
Format: Paperback
Pages: 704 pages
Publisher: Vintage Publishing
Publication Date: 03/09/1998
ISBN: 9780099751816
Other Formats
Audio from £10.35
EPUB from £4.99
Free Home Delivery
on all orders
Pick up orders
from local bookshops
Reviews
Showing 1 - 4 of 4 reviews.
Review by murraymint11
16/06/2015
A long, but ultimately satisfying read with elements of history, science, mystery and suspense.I know the city of Oxford very well, and I found the book painted a very good picture of how life might have been like there in the 17th century, with familiar road names, colleges and even scientists throughout. It really tapped into my imagination.I also loved the 'scientific' suppositions made, which to us now seem ridiculous:"She had killed a man whom she said had raped her, but the jury judged this a lie because she had fallen pregnant, which cannot occur without the woman taking pleasure in the act""It was obvious that things fall because God has made them heavy""Old Blundy was a washerwoman, and by reputation a cunning woman, some said even a witch. This I doubt; I smelt no whiff of sulphur in her presence."Having said this, by the middle of Dr Wallis' (the third) narrative, I was finding the book ponderous and seemingly endless; the voice of each narrator sounded very much like the previous one, and the subplots seemed to be getting very convoluted.The pace picked up again with the last narrative, and I got to the end of the 700-odd pages without resorting to skipping paragraphs. I am sure I've missed some crucial clues and facts, and would probably have to re-read it to understand them all, but to be honest, I don't have the energy!
Review by francescadefreitas
16/06/2015
Its been years since I've read this, so I don't remember it well, but it is one of my favourite books, and I've successfully recommended it several times.
Review by TheoClarke
16/06/2015
Masterly use of multiple perspectives evoking a rounded picture of a part of seventeenth century England.
Review by pcollins
16/06/2015
The book frustrated me for about two thirds of the way but then finally it all fell into place. I hadn't come across a book before written from the perspective of unreliable narrators which is quite interesting. I do like a good long book too but I think this could have had about 100 pages removed from the middle of it and the account by the second narrator Jack Prestcott became a little tedious for my liking.<br/><br/>The majority of the characters in the book are based on factual historical figures and two are even narrators Pears manages to use factual figures in a way that make them remain believable rather than sensationalised through too much conjecture.