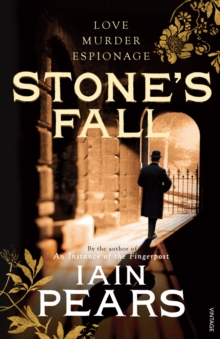 Description
John Stone, a man so wealthy that in the years before World War One he was able to manipulate markets, industries and indeed whole countries and continents, has been found dead in mysterious circumstances.
His beautiful young widow commissions a journalist to carry out an unusual bequest in his will but as he begins his research he soon discovers a story far more complex than he could have ever imagined...As the story moves backwards through time, from London in 1909 to Paris in 1809, before concluding in Venice in 1867, the mystery of John Stone's life and loves begins to unravel.
The result is a spellbinding novel that is both a quest for the truth, a love story that spans decades and a compelling murder mystery.
Information
Format: Paperback
Pages: 608 pages
Publisher: Vintage Publishing
Publication Date: 03/06/2010
ISBN: 9780099516170
Free Home Delivery
on all orders
Pick up orders
from local bookshops
Reviews
Showing 1 - 2 of 2 reviews.
Review by Petroglyph
16/06/2015
This book was not as intricate as <i>A instance of the fingerpost</i> or <i>The dream of Scipio</i>, but much more so than <i>The Portrait</i>. <i>Stone's fall</i> narrates successive portions of a historical mystery in reverse order: it starts off with a journalist investigating a mysterious suicide in the early 1910s; moves on to an espionage-slash-financial-crisis in a filthy late-19thC Paris; and ends with an invention of military significance in sleepy mid-19thC Venice. Running in the background are two red threads. On the one hand the three parts shed their successive lights on an international diplomatic emergency that largely plays out behind the scenes; and on the other hand there is the reverse biography of John William Stone, an unimaginably wealthy banker and arms dealer, who does not come into clear focus until the final third. Towards the end, Pears' plotting stretches credulity a bit, but the rest is a fascinating adventure story that has him juggling genres admirably: crime fiction, spy thriller and a Venetian mystery that feels very du-maurier-meets-engineering. I found the choice of period engaging in that they are a suitably underused background for a setting hardly anyone has written novels about (to my knowledge): a fledgling British secret service and the world of international banking and finance. So that was interesting. The charm of these periods and locales lies in that they are emphatically not used as ancillaries to famous historical events (such as a looming WWI, the Parisian Universal Expositions, or the Unification of Italy), but their role as backdrop to an original story -- that the time and place the story is set in are about much more than the Big Events we already know about. A similar point can be made on a character-level: each part of the general story arc is told as its own separate adventure, and while Pears does indulge a bit in characters and subplots that are not necessarily of direct relevance to the two main storylines, this helps enormously in bringing out the individual time periods as settings independent of whatever larger plan he has on the boil in the background. The plot itself would be rather unremarkable if told chronologically -- but then <i>Stone's Fall</i> would have to start resembling a fictional biography, and it is precisely the mystery angle, the sense of unravelling earlier episodes that cast an entirely new light on the later ones, that is the most appealing facet of this book. In short, I thought this a well-handled, confidently executed historical mystery that uses its unfamiliar settings to great effect.
Review by riverwillow
16/06/2015
I particularly like the device of telling the story backwards, which works very well with this plot. Sadly I'd guessed what caused John Stone's death by the middle of the third part, although, satisfyingly I hadn't quite worked everything out. The book could have been helped by the judicious application of a red pen, as I found my mind wandering as Pears showed off how much he learned in researching the book. It's not up to 'An Instance of the Fingerpost' which caused me to miss my stop on the train on more than one occasion. Setting aside the flaws, this is a good, enjoyable read.