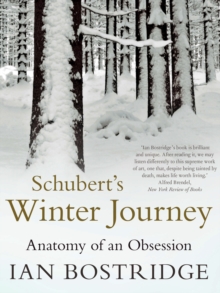 Schubert's Winter Journey : Anatomy of an Obsession
Paperback
Description
Franz Schubert's Winterreise is at the same time one of the most powerful and one of the most enigmatic masterpieces in Western culture.
In his new book, Schubert's Winter Journey: Anatomy of an Obsession, Ian Bostridge - one of the work's finest interpreters - focusses on the context, resonance and personal significance of a work which is possibly the greatest landmark in the history of Lieder.
Drawing equally on his vast experience of performing this work (he has performed it more than a hundred times), on his musical knowledge and on his training as a scholar, Bostridge unpicks the enigmas and subtle meaning of each of the twenty-four songs to explore for us the world Schubert inhabited, bringing the work and its world alive for connoisseurs and new listeners alike. Originally intended to be sung to an intimate gathering, performances ofWinterreise now pack the greatest concert halls around the world.
Though not strictly a biography of Schubert, Schubert's Winter Journey succeeds in offering an unparalleled insight into the mind and work of the great composer.'Usually great singers cannot explain what they do.
Ian Bostridge can. Whether or not you know Schubert's 'Winter Journey', the book is gripping because it explains, in probing, simple words, how a doomed love is transformed into art.' Richard Sennett
Free Home Delivery
on all orders
Pick up orders
from local bookshops