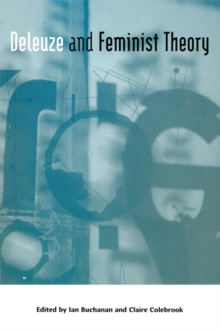 Deleuze and Feminist Theory
Paperback / softback
Description
Ever since Deleuze and Guattari provocatively declared that all 'becoming' must go by way of a 'becoming-woman' their work has been the subject of intense feminist interrogation.
This volume highlights the key points of this ongoing inquiry, focusing particularly on the implications of Deleuze's work for a specifically feminist philosophy. Deleuze and Feminist Theory brings together the work of some of Deleuze's finest commentators and today's most important feminist thinkers. For Deleuze, reading a philosopher or thinker ought never to be a question of blind allegiance or assessing the correctness of methods. Engagement with a thinker is most productive when considered in terms of what a body of thought can do, how concepts create events and how thinking can mobilise desire. It is in this spirit that the essays in this book engage with the work of Deleuze, and Deleuze and Guattari. Deleuze is neither wholeheartedly embraced as an answer to feminist questions, nor rejected as yet one more masculinist error in the history of reason. Rather, Deleuze presents feminism with a challenge and a question: how to think?The work gathered here responds to this challenge with a series of further questions opened by the Deleuzean project.
How might desire be thought positively? What can a body do? How might women become? And how might feminism be thought as an event? Including new work by Elizabeth Grosz, Rosi Braidotti and Dorothea Olkowski and essays on film, the colonial imaginary, desire and embodiment, Deleuze and Feminist Theory offers asustained consideration of the impact of Deleuze on feminist thought.
Key Features *Provides an introduction to Deleuze for those working in feminist theory and philosophy *Includes new work by major feminist theorists *Provides a broad approach to several areas of Deleuze's work, including film, politics, literature and feminism *Relates Deleuze's work to its historical and philosophical context
Information
Format: Paperback / softback
Pages: 256 pages, illustrations
Publisher: Edinburgh University Press
Publication Date: 15/02/2000
Category: Western philosophy, from c 1900 -
ISBN: 9780748611201
Also in the Deleuze Connections series | View all