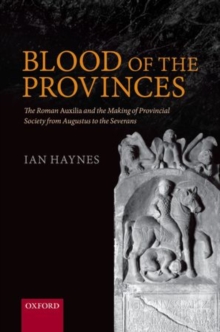 Blood of the Provinces : The Roman Auxilia and the Making of Provincial Society from Augustus to the Severans
Hardback
Description
Blood of the Provinces is the first fully comprehensive study of the largest part of the Roman army, the auxilia. This non-citizen force constituted more than half of Rome's celebrated armies and was often the military presence in some of its territories.
Diverse in origins, character, and culture, they played an essential role in building the empire, sustaining the unequal peace celebrated as the pax Romana, and enacting the emperor'swrit.
Drawing upon the latest historical and archaeological research to examine recruitment, belief, daily routine, language, tactics, and dress, this volume offers an examination of the Empire and its soldiers in a radical new way. Blood of the Provinces demonstrates how the Roman state addressed a crucial and enduring challenge both on and off the battlefield - retaining control of the miscellaneous auxiliaries upon whom its very existence depended. Crucially, this was not simplyachieved by pay and punishment, but also by a very particular set of cultural attributes that characterized provincial society under the Roman Empire. Focusing on the soldiers themselves, and encompassing the disparate military communities of which they were a part, it offers a vital source of information on howindividuals and communities were incorporated into provincial society under the Empire, and how the character of that society evolved as a result.
Information
Format: Hardback
Pages: 448 pages, 50 in-text black and white illustrations
Publisher: Oxford University Press
Publication Date: 26/09/2013
Category: European history
ISBN: 9780199655342
Free Home Delivery
on all orders
Pick up orders
from local bookshops