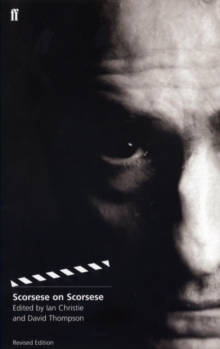 Scorsese on Scorsese
Paperback
Description
Now fully updated, Scorsese on Scorsese is the definitive study of America's foremost film director, including new chapters on Kundun, Bringing Out the Dead, the documentary My Voyage to Italy, and the epic Gangs of New York.True to its title, this book offers Martin Scorsese in his own words: through a career-length interview in which he recalls his upbringing in New York's Little Italy, and explains the inspiration and creation of his many great movies.
The result is an incomparable insight into a body of work that is the most personal achievement in modern American cinema.Scorsese proves himself to be a terrifically articulate artist, whether recounting the many battles to get his movies made, his supreme passion for the medium of film itself, or the roots of his long-time creative partnership with actor Robert De Niro.
Scorsese on Scorsese also contains a complete filmography, and a wealth of behind-the-scenes stills and sketches from Scorsese's own collection.
Free Home Delivery
on all orders
Pick up orders
from local bookshops
Reviews
Showing 1 - 2 of 2 reviews.
Review by Sarna
16/06/2015
If it wasn't for my presentation devoted to Wharton's "The Age of Innocence" and its movie adaptation, probably I'd never pick this book up.Thankfully, this book turn out to be not only a great source of information on the movie and the whole movie-making process but also a fascinating journey into Scorsese's mind.
Review by Periodista
16/06/2015
The two editors gathered material from Scorsese's interviews over many years on individual films--up to and including Gangs of New York. If you've watched Mean Streets, Taxi Driver, Casino, etc., many times, as I have, it's all very interesting. I immediately watched Casino and Goodfellas to examine his choices anew. Next: Age of Innocence, probably my favorite.There are even comments about his early student films, documentaries and Italian ads, which I haven't seen.Then of course there is Scorsese's well-known deep knowledge and references to classic films from Italy and everywhere else. These are very much on display in this book because, whatever the question, he keeps coming back to the structure of a film, the shooting and lighting of individual scenes, editing and music. He has frequently gotten ideas, particularly for shots, from old films he has stored in his amazingly detailed memory. I guess my only complaint is that I wanted more! If I were an editor, I would cut out a lot of the remarks on those very early films in favor of more details about Cape Fear, Kundun, King of Comedy and Bringing out the Dead.However, you won't get many clues about his views re performances or various actors' methods. And Scorsese never says anything bad about anyone--be it actors, studios or money men. Well, some hints about the of studio heads. But, really, not a shred of gossip. You can see why he is so loved and why he has survived.