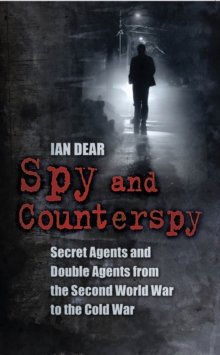 Spy and Counterspy : Secret Agents and Double Agents from the Second World War to the Cold War
Paperback / softback
Description
The shadowy world of supposedly legalized spying has an enduring fascination for us all.
Spy and Counterspy reveals for the first time the web of spies that spanned the globe during and after the Second World War, working for organisations like MI5 & MI6, the CIA & OSS, Soviet Smersh & NKVD, Japanese Tokko and the German Gestapo.
These men and women lived extraordinary lives, always on the edge of exposure and the risk of death.
Many of them were so in love with the Great Game of espionage that they betrayed their countries and acted as double and sometimes even triple agents in a complex deception that threatened the very grasp of power in government.
Their war in the shadows remained unrecognized until today.
Free Home Delivery
on all orders
Pick up orders
from local bookshops