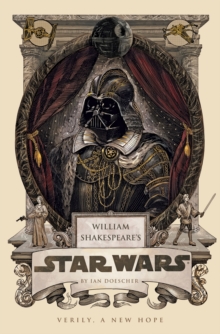 William Shakespeare's Star Wars
Hardback
Description
May the verse be with you! Inspired by one of the greatest creative minds in the English language - and William Shakespeare - here is an officially licensed retelling of George Lucas' epic Star Wars in the style of the immortal Bard of Avon.
The saga of a wise (Jedi) knight and an evil (Sith) lord, of a beautiful princess held captive and a young hero coming of age, Star Wars abounds with all the valor and villainy of Shakespeare's greatest plays.
Reimagined in glorious iambic pentameter, William Shakespeare's Star Wars will astound and edify learners and masters alike.
Zounds! This is the book you're looking for.
Information
Format: Hardback
Pages: 176 pages
Publisher: Quirk Books
Publication Date: 27/06/2013
ISBN: 9781594746376
Free Home Delivery
on all orders
Pick up orders
from local bookshops
Reviews
Showing 1 - 5 of 62 reviews.
Previous | Next
Review by auntmarge64
16/06/2015
Very clever. Any Star Wars addict will easily be able to follow along and will probably be able to mentally hear the original dialogue while reading the book. The Chorus relates some actions which are visualized in the film, such as Vader's torture of Leia, but these are relatively minor scenes. And some of the dialogue, especially the asides, add certain meanings to events which are not in the original: most especially, R2's statement that he is guiding the action and talks in beeps and boops to hide his true power. This amused me, because my brother has been saying this for years. Every time R2 went back and forth between beeps and boops and his asides in English I laughed out loud.For the non-SW nut, this will be an amusing but one-trick pony, but for the fan it should rate high on gift lists for holidays and birthdays.
Review by philae_02
16/06/2015
Words cannot express the skill in which Doescher succeeded in creating an iambic pentameter version of Star Wars: A New Hope. This delightfully funny and clever work is truly that of the "bard" or what-would-have-been anyway. From R2-D2's thoughtful soliloquies to the sage advice of Obi-Wan Kenobi, this work is a must-read for any Star Wars fan. I hope that Doescher continues with the Empire Strikes Back, and Return of the Jedi. I'm keeping my fingers crossed. :)
Review by corglacier7
16/06/2015
Hilarious and witty, this was a really fun read. Seeing "A New Hope" translated into a Shakespearian stage play, and reading familiar dialogue in a new way, was a real treat. Definitely recommended.
Review by val313
16/06/2015
"in a time so long ago begins our play, in star-crossed galaxy far, far away"Ian Doescher has created a brilliant twist on a favorite fandom. William Shakespeare's Star Wars is a fun and fast read that will have both Star Wars fans and Shakespeare lovers flying through the pages at light speed. Not only are the epic film moments captured in perfect prose, we also get twists on beloved Shakespearean plays. Included in the text are 20 illustrations that show popular scenes from the movies. I was never a Shakespeare fan in High school and likely never will appreciate him as much as others. However, I found myself flipping pages quickly and matching up scenes from Hamlet, Romeo and Juliet and Julius Caesar. I loved the side thoughts (asides) from the characters which added to the story. I also laughed at the scenes with R2-D2 and Chewbacca! Beep, beep, meep, squeak, hoo! The private thoughts from our favorite little droid were a great add in. Who hasn't wondered what he was thinking during C-3PO's lengthy complaints?!I would highly recommend this to both fans of Star Wars and Shakespeare alike who want a fun and dramatic take on a well known space adventure. I hope he continues through the rest of the films!
Review by xymon81
16/06/2015
" What light through yonder flashing sensor breaks"This line made me groan so bad I had to put the book down for the night. I was so excited when I won this novel through the early reviewers and it was as described. I would asy that this small book is really for true fans. Not just any fans through, but some that would appreciate the shakespear portion. If you did not appreciate plays or things such as that, I would skip it. I enjoyed it but I loved it's quirkyness and the referances for both Star Wars and Shakespear that are throughout the book.