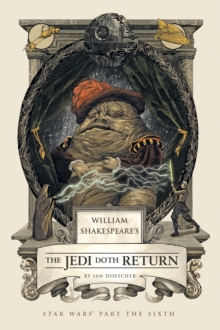 William Shakespeare's The Jedi Doth Return
Hardback
Description
Hot on the heels of theNew York Timesbest sellerWilliam Shakespeare's Star Warscomes the next two installments of the original trilogy:William Shakespeare's The Empire StrikethBackandWilliam Shakespeare's The Jed Doth Return.
Return to the star-crossed galaxy far, far away as the brooding young hero, a power-mad emperor, and their jesting droids match wits, struggle for power, and soliloquize in elegant and impeccable iambic pentameter.
Illustrated with beautiful black-and-white Elizabethan-style artwork, these two plays offer essential reading for all ages.
Something Wookiee this way comes!
Information
Format: Hardback
Pages: 176 pages
Publisher: Quirk Books
Publication Date: 01/07/2014
Category: Science fiction
ISBN: 9781594747137
Free Home Delivery
on all orders
Pick up orders
from local bookshops
Reviews
Showing 1 - 5 of 12 reviews.
Previous | Next
Review by philae_02
16/06/2015
A big thank you to the Early Reviewers for allowing me to review the complete set. Now, for some reason The Jedi Doth Return took longer for me to read/finish than the previous two. But nevertheless, I am glad to have read it. The iambic pentameter adventures continue from Jabba's palace to the forest moon of Endor. But when the Ewoks appeared, it got a little silly. Sure, I can understand Doescher's predicament when faced with transforming an already silly alien dialect into a Shakespearean equivalent. But despite the silliness, I appreciated what Doescher accomplished with Episode 6. I felt that Leia summed it up best in Act 5, Scene 4, line 54:"New hope did guide our first adventures, aye,Until the Empire harshly struck us back,But then our noble Jedi hath return'dAnd all ensur'd our victory was won."Maybe, one day, Shakespearean festivals will put on a production of the trilogy. I guarantee that I would gladly attend.
Review by shabacus
16/06/2015
Ian Doescher's facility with the Shakespearean pastiche is in no way diminished in this, the third (or sixth) and final (or not) entry in his dramatic adaptions of Star Wars. If this particular entry shines less brightly than the others, it is only because the source material presented less fertile ground, especially in the opening acts. The choice to maintain all of the original Huttese (and other foreign language) dialogue was an odd one. It might stage well, as indeed it did in the film itself, but it was much less engaging to read. The Ewoks were handled more adroitly, although a given reader's tolerance for them and their antics is no doubt in direct proportion to their love for the Ewoks in general.It's all in good fun, though, and I have enjoyed the ride. If he writes the prequels, I'll read them too.
Review by DarthDeverell
16/06/2015
I've had the pleasure of reading all three volumes of Ian Doescher's Shakespearean Star Wars trilogy and have delighted in each book. Now, as his trilogy closes with "The Jedi Doth Return," I can appreciate the Shakespearean elements in George Lucas's original films. Darth Vader's redemption and return as Anakin Skywalker are perfectly suited to Shakespeare's work and Doescher brilliantly adapts the drama and suspense of "Jedi" into this format. The dialogue is perfectly paced and Doescher uses various character's asides to fill in character development that the novels typically added in prose, such as Lando Calrissian's desire to redeem himself following the events of "Empire." Additionally, Doescher plays homage to famous dialogue from the film, the best incident of which is Admiral Ackbar yelling out, "O rebels, do you hear? Fie, 'tis a trap!" Various other lines reference famous works of Shakespeare, including "Julius Caesar," "As You Like It," and "Hamlet." Like Doescher, "Jedi" was always my favorite film in the trilogy since it is where the audience sees the story come full circle and Luke and Darth Vader's stories have a near perfect conclusion. Doescher does the film justice and adds a new level of insight that challenges the reader to rewatch the movies as a form of English literature rather than simply popular entertainment."New hope did guide our first adventures, aye,Until the Empire harshly struck us back,But then our noble Jedi hath return'dAnd all ensur'd our victory was won."
Review by StefanY
16/06/2015
Whether or not you're a fan of Shakespeare, if you are a fan of Star Wars, this is a GREAT book. The best part is that it begs to be read aloud. If you're as familiar with original trilogy as you should be, you can open the book to any page and quickly pick up where in the story you are and hilarity ensues. A fun book, fun book. I will be buying the first two in the series post-haste! Mayeth the Force be with Thee!
Review by Nextian
16/06/2015
This is the final installment of the Shakespeare's Star Wars trilogy. It was wonderful, but not quite as good as the first two adventures (which is a bit disappointing since I'm one of those weirdos that always preferred Return of the Jedi to the first two movies). I think that Doescher was running out of the better known speeches to pattern the dialog on. Too many of them sounded slightly familiar but not enough to jump out and grab me. I'll blame that on my own incomplete knowledge/remembrance of the plays though. I still enjoyed the book, but it won't become one of my favorites.