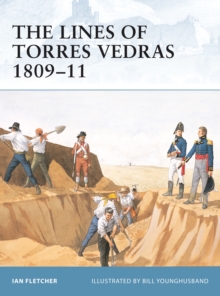 The Lines of Torres Vedras 1809-10
Paperback / softback
Part of the Fortress series
Description
Following the battle of Bussaco on 27 September 1810 Wellington's heavily outnumbered troops began to withdraw towards Lisbon.
By the evening of 9 October the British and Portuguese began to withdraw behind a line of defensive works that had been built to the north of Lisbon.
These were not the rudimentary field works that the French anticipated, but an enormous network of forts, batteries and redoubts whose construction had been started the previous November - the Lines of Torres Vedras.
This 30-mile-wide line utilised the area's natural defences, damming rivers, scarping hillsides, blocking roads and establishing forts upon almost all of the hills.
This title describes its design, creation and effectiveness in the face of French attacks.
Information
Format: Paperback / softback
Pages: 64 pages, 35 colour and 28 b&w illustrations
Publisher: Bloomsbury Publishing PLC
Publication Date: 12/06/2003
Category: European history
ISBN: 9781841765761
Also by Ian Fletcher