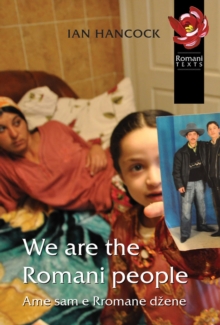 We are the Romani People
Paperback
Description
The author, who is himself a Romani, speaks directly to the gadze (non-Gypsy) reader about his people, their history since leaving India one thousand years ago and their rejection and exclusion from society in the countries where they settled, their health, food, culture and society.
He offers candid frank advice on rejecting prejudices and stereotypes and getting to know Roma as individuals.
He describes the development of Roma identity and politics, gives short biographies of prominent Roma in many different walks of life, describes the Romani language and illustrates it with proverbs providing an insight into Roma thought and belief.
It is extensively illustrated and provides a rare inside view into the life and society of the Roma people.
This book is published in association with OSI, New York, a charitable foundation whose aims include supporting equality of opportunity for the Roma of Central and Eastern Europe.
Information
Format: Paperback
Pages: 208 pages, 62ill.
Publisher: University of Hertfordshire Press
Publication Date: 01/09/2002
Category: Social & cultural history
ISBN: 9781902806198
Free Home Delivery
on all orders
Pick up orders
from local bookshops
Reviews
Showing 1 - 1 of 1 reviews.
Review by mvbdlr
16/06/2015
This is an average introduction into the study of the Roma/Gypsies. It is written in elementary language with a lot of basic information. I had a feeling it was meant for young children to read. It got quite condescending in some parts, especially when it set out to teach people how to deal with Roma, and emphasized over and over that this is a culture that is different. It was also full of what Roma/Gypsies are not, when more information of the culture and such would have been better. Positive rather than negative language is always better, especially when presenting a book on a culture that isn't very well-known. Also, I understand the author's desire to unite the people, but there were a lot of things that I did not relate to, and I am of Spanish Gitano heritage. Therefore, when I use the word Gypsy in English, I am translating from the word Gitano in Spanish. My mother's family is from Sevilla, in the south, so it might be very different from communities in the north and definitely from those in other parts of Europe. At no time in my life has the word Gitano been used negatively, and there are many resources to show that Gitano is something full of pride. Therefore, I will continue to use both terms, which I do not find disrespectful at all. Also, even if there are some similarities between different cultures within the same people, the author should have made it known and reiterated throughout the book that he was discussing Vlax Romani culture, and not the culture in general. Other than that, there was a great (albeit very short) section on history and some great photographs. It would have been a better book if it would have contained more positive information and more information on the different Roma/Gypsy cultures. For example, Spain was mentioned a few times, but if we take the book at face value, it's not a significant part of the Gypsy world. A somewhat good introduction, but please, for anyone interested in these cultures, please continue reading and researching. I was shocked at how thin the book is and how much more information could have been included.
Also in the Interface Collection series