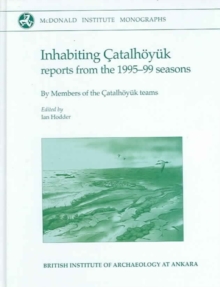 Inhabiting Catalhoeyuk : Reports from the 1995-99 seasons
Hardback
Description
Volume 4 deals with various aspects of the habitation of Catalhoeyuek.
Part A embarks on a discussion of the relationship between the site and its environment, using a wide range of evidence from faunal and charred archaeobotanical remains.
Part B looks at evidence from human remains which inform us about diet and lifestyle, as well as wider issues of population dynamics and social structure, including a consideration of population size. Part C looks at the sediments at Catalhoeyuek, exploring ways in which houses and open spaces in the settlement were lived in.
In all of these ways, a picture is built up of the way in which people moved through and lived in the natural and cultural environment of the places we subsume under the name of 'Catalhoeyuek'.
Information
Format: Hardback
Pages: 446 pages
Publisher: McDonald Institute for Archaeological Research
Publication Date: 05/06/2005
Category: Archaeology by period / region
ISBN: 9781902937229
Also in the McDonald Institute Monographs series